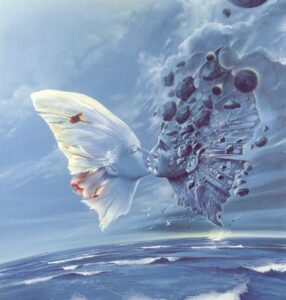 The Couple is an archetypal image of the Self that has reemerged into collective consciousness in our time. Its energy is created by your use of the metaphysical Law of Three to unite your lunar and solar twins into third-force archetypes and form a conscious relationship with the Self.
Our forebears projected the Couple archetype onto sacred couples such as Eve and Adam, Gaia and Uranus, Hera and Zeus, Ariadne and Dionysus. They are all variations on the theme of humanity's growth into greater consciousness.  We can learn a lot about our own consciousness from their stories.
We know very little about the relationship between Gaia (Earth) and Uranus (Sky/Heaven), except that Gaia arose out of Chaos and birthed Uranus. They indulged in a whole lot of instinctual copulation, after which Gaia created the universe, and then a bunch of people and creatures. Eve and Adam enjoyed innocent, instinctual lives too, until Eve disobeyed her God-image because she wanted to be more conscious. She persuaded Adam to do the same, and Adam blamed her for tempting him instead of assuming responsibility for his own choice.
Both couples parented children who introduced violence into the world. Gaia and Uranus's children, the Giants, grow so quarrelsome and unruly that Uranus feared they would use their power against him, so he imprisoned them in Tartarus. Gaia sought revenge by enlisting help from their son Cronus, who killed his father. Meanwhile, in another part of the mythical world, Adam and Eve's son, Cain, grew jealous because God gave his brother Abel more approval and attention. Cain decided to eliminate the competition and killed his brother, and the war for male supremacy was on.
Generations later, Hera and Zeus valued their relationship enough to invent marriage. Unfortunately, their marriage was a power struggle. Because they lived in a patriarchal pantheon, the balance favored Zeus, who did whatever he wanted without seeming to care how much he hurt or betrayed Hera in the process. This left her bitter and hungry for revenge. Their unresolved problems were passed on to their descendants. These mythic themes resonate with us because they're still being played out in our lives. They create problems for us, our children, and our grandchildren until someone breaks the dysfunction with self-awareness and love.
Still later, when Ariadne and Dionysus met, they had both endured great suffering and were humble and grateful simply to be alive. They married for love and stayed loyal for life. Self-knowledge, love, and egalitarian partnership between femininity and masculinity had been added to the mystery of humanity's evolution into self-awareness.  Now you have the capacity to create that kind of relationship in your life.
By Greece's golden age—500-300 BCE—some of these developments had already appeared in Asian philosophies. In the sixth century BCE, Lao Tsu, the father of Taoism, advised people to return to the natural Self of their feminine/yin and masculine/yang energies to live in accordance with the perfect order of things. Around the same time, Buddha taught that the healing Middle Way between physical and spiritual life lies in meditation and self-knowledge. A few centuries later, Jesus taught that God is love and the kingdom of God is within. Like Lao Tsu and Buddha, he understood that psychologically, the kingdom of God—and therefore of spiritual love—is attainable to each of us.
Over two millennia later, the majority of humanity still has no awareness of the sacred within. They rely on their religions to tell them how to think about their God, and believe that their group's standards are the only correct ones. They think their religion has never changed, and that their salvation lies in believing in it. But history shows us that if we believe our group or religion  has never changed and is the only correct one, we're the ones who are wrong. Cultures and religions are always changing. They reflect the self-awareness, values, virtues, and God-images of the people who originate them. As people change, cultures and religions change.
You are changing too. Like Eve, you may eventually realize that your old God-image no longer works. You may wonder, "Who is this superior male authority figure I've been told to obey? Why doesn't he want me to become conscious? Why don't I feel safe? What do I have to do to make him love me? Why should I obey his rules when I don't know who he is or if he's even there? Why would he punish me with these trials I'm suffering when I've tried so hard to please him?  Rebelling against outmoded beliefs and traditions can be very scary, but you will never be happy or fulfilled until you find the Sacred within you. Because that's where it lives—in you and everyone.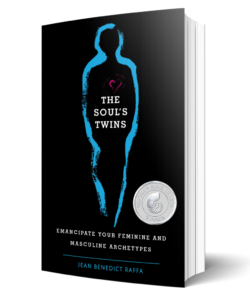 Men and women today sense the irrelevance of a one-sided God-image. If the bastions of organized religions crumble, it will be because they no longer address the needs of our maturing souls. We imagine the sacred mystery of life to be far more benevolent, balanced, and complex than a superior masculine force with tolerance for the feminine and minorities while remaining separate and superior. We, our cultures, and our religions are evolving toward greater complexity and individuation while we are evolving toward wholeness and union in caring relationships.
How has your spirituality evolved in your life?
This copyrighted material is from pp. 176-7 of The Soul's Twins.
Image Credit: The Kiss. Artist unknown. Pinterest.
Paper and E-book versions of The Bridge to Wholeness and Dream Theatres of the Soul are at Amazon. The Wilbur Award-winning Healing the Sacred Divide can be found at Amazon and Larson Publications.com. Jean's new Nautilus Award-winning The Soul's Twins, is at Amazon and Schiffer's Red Feather Mind, Body, Spirit. Subscribe to her newsletter at www.jeanbenedictraffa.com.