The world-wide polarization in religious and political dialogue is frightening. But beneath the chaos, individuals and nations are making unprecedented progress in healing the sacred divide. Our species is evolving and we are beginning to unite the opposites. Welcome to Epoch III: the era of mandorla consciousness." ~Healing the Sacred Divide, p. 277.
My third book, Healing the Sacred Divide:  Making Peace with Ourselves, Each Other, and the World (2012) was about thinking psychologically and living spiritually. The thoughts expressed in that book came directly from my spiritual experiences. I grew up as a Christian who fell so in love with my faith and God-image that at the age of 17 I began to read the New Testament of the Bible. By the age of 25 I had I read it three times. My sincere efforts to apply its teachings to my life—especially the words of Jesus—brought a powerful awareness of a deeper level of sacred meaning that ran below the surface of the traditional teachings of my church like a river of living water. With this new awareness came many new emotions, some profoundly exciting, some deeply disturbing.
By my late thirties I was awash in a chaos of contradictions that challenged everything I had believed about myself and God. This led to a lengthy "dark night of the soul" psychological and spiritual crisis that lasted until my late forties. Then I began an intense, ongoing study of Jungian psychology that helped me integrate these seeming contradictions into an entirely new way of experiencing the Sacred.
After a while, my spirituality was no longer a one-sided affair tied to the literal beliefs and meanings taught by organized religion with its strict dogma, outer male authorities, and male-god-image. Rather, it expanded into a more centered experience of life and spirituality that connected the outer God with the God within, heaven with Earth, masculine with feminine, humans with Nature, left-brained reason and belief with right-brained relatedness and imagination. These connections were no longer founded in my youthful belief in a God other people told me about, but in an evolving knowing of the Sacred I experienced within myself.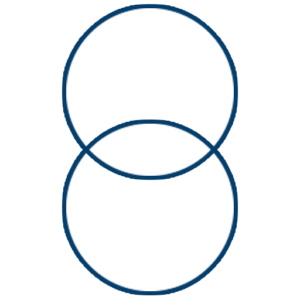 In Healing the Sacred Divide, I call this new spiritual way of connecting opposites mandorla consciousness, after the central, almond-shaped space formed by two overlapping circles. This image is featured as a preface to every chapter throughout the book. Although the mandorla has been a sacred symbol of Christianity called the vesica piscis (vessel of the fish) since the early days of Christianity, I nonetheless felt some trepidation about sharing my thoughts about it out of fear of criticism from the more orthodox and fundamentalist factions of the faith.
I am happy to report that much of my fear disappeared when, to my amazement and delight, Healing the Sacred Divide won the Wilbur Award from the Religious Communicators Council for excellence in the communication of religious issues, values, and themes treated with professionalism, fairness, respect, and honesty. Past winners include Mister Rogers and Oprah Winfrey. I'm deeply honored to be in their company, and thrilled to know not only that the religious communicators who presented this award believed my book worthy of it, but also that today, more people than ever before are open to its message.
The recent political divisiveness attributed to extreme fundamentalist factions is just one example of the shadow side of rigid belief systems. Theologian Marcus Borg reminds us that to insist on this way is to follow the broad way of conventional wisdom. In his words,
"…the broad way is the way most people live most of the time. It is not that most people are 'wicked,' but that most lives are structured by the conventions of their culture, by taken-for-granted notions of what life is about and how to live, by what 'everybody knows.'" ~Marcus J. Borg, Jesus: Uncovering the Life, Teachings, and Relevance of a Religious Revolutionary (2006), p.194.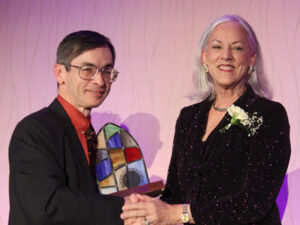 Borg contrasts the broad way of convention with the narrow way of which Jesus spoke. The narrow way consists of a radical return to, and centering in, God. In this manner of living,
"…the word 'repent'…[means] to return from exile and to think/see anew. It means to return from a condition of estrangement and exile to the presence of God. And it means to acquire a new way of seeing and thinking that goes beyond the conventions of culture." ~Marcus Borg, p. 220.
To travel the broad way is to live an unexamined life. To not understand the value of self-reflection. To not see that the individual, experiential journey toward expanding consciousness is exactly what empowers the genuine spirit persons we so admire. For such a person,
"It isn't enough to believe in the love of God, as a doctrine;  you must experience the love of God."~Thomas R. Kelly
Most people have had a mystical experience that was so meaningful it felt sacred. Have you? What did you learn from it?
Portions of this post are taken from Chapter 50 of Healing the Sacred Divide. For other posts about the mandorla symbol, look here, here and here.
Paper and E-book versions of The Bridge to Wholeness and Dream Theatres of the Soul are at Amazon. The Wilbur Award-winning Healing the Sacred Divide can be found at Amazon and Larson Publications.com. Jean's new Nautilus Award-winning The Soul's Twins, is at Amazon and Schiffer's Red Feather Mind, Body, Spirit. Subscribe to her newsletter at www.jeanbenedictraffa.com.