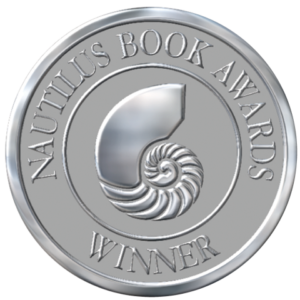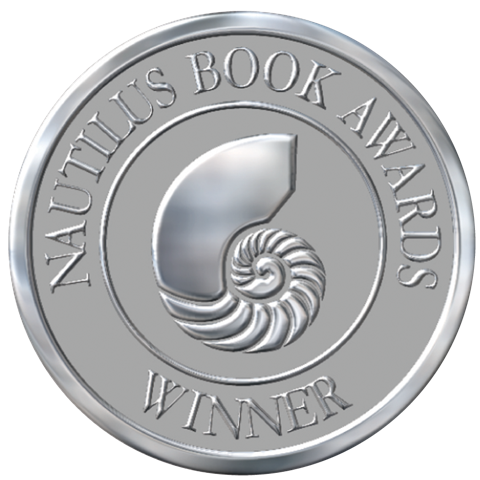 The Soul's Twins has won the 2020 Nautilus Book Awards Silver Medal in their Category #14:
Inner Prosperity & Right Livelihood.
The chambered nautilus shell is a symbol for one's spiritual evolution. The Nautilus mission is to "…celebrate and honor books that support conscious living & green values, high-level wellness, positive social change & social justice, and spiritual growth." Books that "…inspire and connect our lives as individuals, families, communities, and global citizens."
If you haven't read The Soul's Twins yet, you can purchase your copy and, if you are so inclined, write a review here.
Advance praise for
The Soul's Twins
This new Jungian book is the rarest kind. It's at once full of real-world practical applications, scholarly and hard-won personal wisdom, and an exciting, even intoxicating soul plunge into a revolutionary re-visioning of the living presence of love - a love that includes the possibility of unity with numinous deity in all its manifestations. But the book is primarily a bold new exploration of Jung's central vision of the sacred archetypal marriage of male/female and anima/animus. It's prime reading for singles, couples, and for weary Jungians in need of some eye-opening, unorthodox soul food from Jean Raffa's mana-infused opus that's worthy of Jung himself!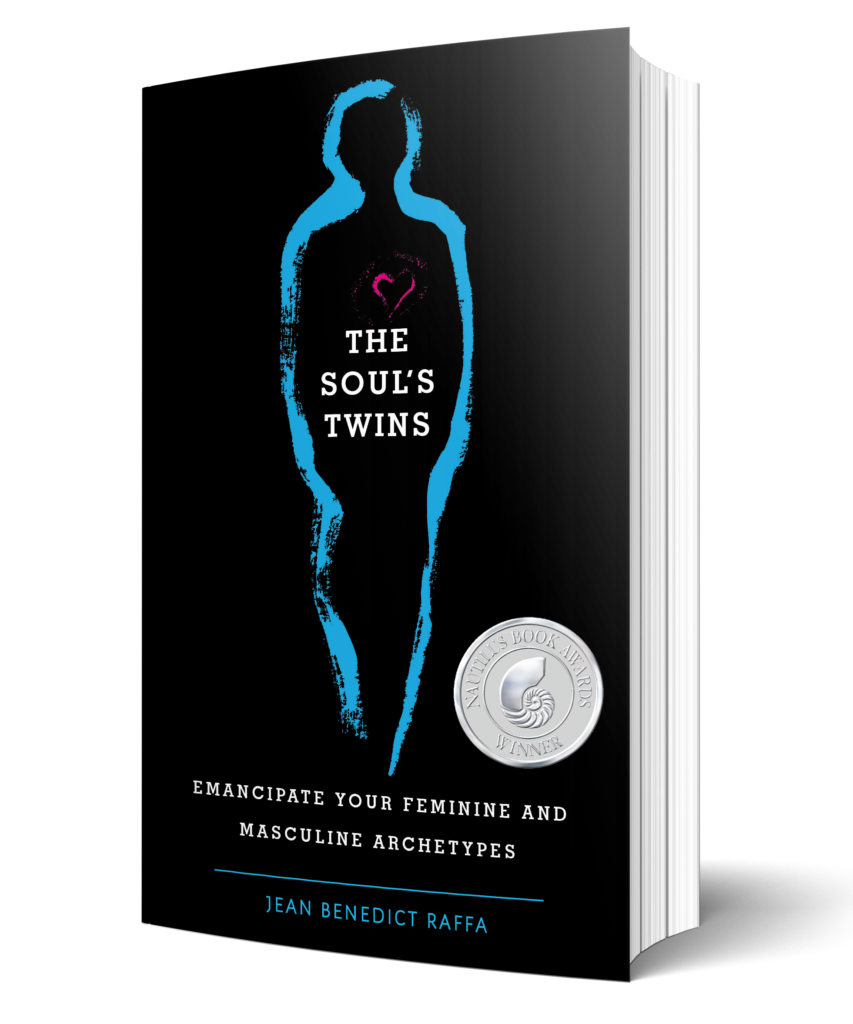 Love and wisdom were the first two words that came to mind as I was a few pages into this book. The Soul's Twins: Emancipate Your Feminine and Masculine Archetypes is a trustworthy and inspiring guide that helps us understand the most powerful archetypal forces within us and how they shape and influence our lives. This knowledge can lead us to love, strength, tenderness, and creativity. Jean's clear explanations, myths, stories, and exercises invite us to experience the transformation of our souls. This is a book that heals and then calls us to live beyond the limits and ideals of a normal life. It is to be read and savored and I will give it to as many people as I can think of.
In accord with the ancient dictum found in Delphi, "Know thyself," Dr. Jean Raffa's book is a clear, practical, and richly expanded up-to-date view of the essential archetypes defining femininity and masculinity, and a map to healing and wholeness. A fascinating personal questionnaire and rich illustrations help us see how the lighter and shadow aspects of our archetypes are working in our own lives. With this knowledge comes true power. The Soul's Twins invites us to retrieve our authority from cultural stereotypes and take our personal and collective evolution in hand. With compassionate discernment and an unwavering belief in the dignity and beauty of the whole human, Dr. Raffa inspires us to begin our personal work to heal our world. Love this book! Highly recommended!
Jean Raffa's beautiful, illuminating, and very accessible new book, The Soul's Twins, provides the reader with a living archetypal map of the highways, byways and sacred trails coursing through the depths of the human psyche. Expect to gain clarity, meaning, realistic hope, and practical orientations for psychological, emotional, and spiritual integration in this very lifetime. Her cogent and graceful style overflows with wisdom, awareness, and deep soulfulness. This is destined to become a modern classic!
More than a self-help guide, The Soul's Twins: Emancipate Your Feminine and Masculine Archetypes is a gentle, engaging, and insightful guide for self-discovery at our soul's depth. Jean Benedict Raffa shows us we are not alone, or lonely, on our quest for wholeness, as she details how the ancient archetypes manifest in our modern lives, and how we can accept and use these archetypes for more fulfilling lives and relationships.
This deep dive into the archeology of the soul is insightful and transformative work. With detailed research, a helpful self-assessment tool, and compelling examples, these pages will guide you on a quest of self-discovery. Illuminating and poetic, Raffa's words are sure to captivate and inspire you as you take this quest of greater self-understanding and inner healing.
Famously, William Shakespeare wrote that "Life is but a dream, within a dream." Five centuries later, author Dr. Jean Raffa echoes that poetic truism with her new book, The Soul's Twins. With oneiric and mythological tropes, she offers a useful series of inspiring essays and creative practices to help the reader find a more spirited balance and wholeness to everyday life.
The Soul's Twins is a prescient and precious transformational journey for anyone who wants a more functional, meaningful life. Raffa transcends the artificial either/or antimony of our culture to provide a new vibrant enlightening path: The Law of Three. Her exploration of archetypes is enthralling and extremely pertinent to anyone on the path of spiritual growth and evolution. After you complete the Partnership Profile you will better understand yourself and how to enhance your intimate relationships. This is a coherent and beautifully written treatise culling from myriad disciplines to give the reader a clear and concise understanding of the importance of Carl Jung's work to contemporary society.
A tour de force, The Soul's Twins offers a practical approach to reclaiming aspects of your whole self that have "gone missing" due to personal, cultural, gender, religious, and parental influences. Is it your Queen, your Lover, your Warrior, your Sage? Each of us longs to become a more balanced individual, and Raffa's self-administered Partnership Profile, like the Myers-Briggs, is a profoundly simple tool for recalling "abandoned parts" of yourself that seek reunion with their inner opposites. The inclusion of historical figures who embody these archetypes crystallizes what is humanly possible for each of us. Highly recommended.
The author gifts us with practical knowledge acquired from 30 years of inner work and her impressive wisdom and research into Jungian psychology. Readers will find enlightening recognition of themselves and others in artfully told stories that describe the complexity of the male and female archetypes and the vital roles they play in our lives today. Each of us has both within us. By becoming aware of them and their different shades and levels of activity, including the shadow side of each, we can consciously embrace a marriage of the two. This is an important message for modern times. The Soul's Twins is highly recommended for anyone keen to deepen the dictum "Know Thyself". It has been a joy to read.
For those who feel midlife can represent a dizzying, warp-speed descent into conflict and confusion, Jean Raffa extends a gentle beckoning hand. She carefully charts a vision to neuter gender stereotypes and transform them into triumphant archetypes — achieving ultimate union of the soul's lunar and solar twins. Here's a bible to couple the nurture of feminine power with the heroic masculine journey, promulgating oneness with the divine. Jean Raffa has crafted a 21st century road map for the soul.
Jean is a masterful guide, leading us through a personal journey of self-awareness and spiritual enlightenment, and providing us with a golden key along the way -- the Partnership Profile. This is a powerful self-assessment tool that helps us strengthen relationships with those in our lives by building partnerships between conflicted opposites within us. A delightful must-read!
Our soul seeks and meets itself in many guises, intrapsychic and interpersonal. Through the Partnership Profile depicted here, readers learn to unwrap the conundrum of their unconscious. We are introduced to present and past individuals and couples along with the cross cultural archetypes and their mythic wisdom of the human condition. As Jean Raffa portrays by using the backdrop of Jungian psychology, to find ourselves is a union and coupling, an interior process that unfolds into external reward and validation.
In this exceptional work, author Jean Raffa has created a blueprint for liberating four key pairs of feminine (lunar) and masculine (solar) energies within your psyche. Dr. Raffa's vast knowledge of myth and psychology brings these archetypal energies—not to be confused with male and female gender—to life. When activated and joined in partnership, they create a unified Self who develops loving, egalitarian relationships with others. To ground your work in body, mind, and spirit, Raffa suggests practices like paying attention to your dreams and synchronicities, trusting your imagination and intuition, and creating personal rituals. I highly recommend this groundbreaking, important, and timely work.
Add this to your arsenal for tackling the world within. This is a must-read for anyone who is looking to deepen their spiritual work and is brave enough to shine a light on what is driving their behavior. Accessible, insightful and fresh, The Soul's Twins will move you toward a healthier and more contented way of life. Readers will relish Raffa's examples drawn from mythology and well-known literary and historical figures from the ancient world to the present. Recognizing the archetypal patterns in yourself will help you tame the unruly ones and strengthen the weak ones. Brava!