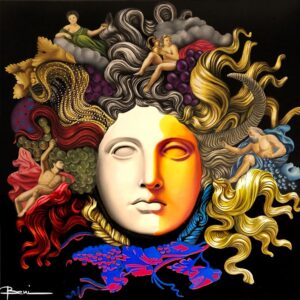 You can learn about your Lover archetype from mythology. One Greek god in particular, Dionysus, exemplifies the Lover's healthy and shadow aspects.
Lover is a romantic with a soulful earthiness and an unabashed appreciation for life. He is the curious child who closely examines and fiddles with new gadgets. The playful child who lures his friends into new adventures. The quiet child who is fascinated by new colors, sights, tastes, and sensations. The sensitive child who feels deeply and passionately about following his own agenda and pursuing interests that feel meaningful. His pleasure in being who and what he is, and in loving what he loves without needing to prove himself to others, distinguishes him from the other masculine archetypes in that he has a naturally strong lunar aspect that balances his solar energies.
In Alchemy of the Heart, A. Marina Aguilar says of Dionysus:
He is lover, faithful partner, and the other half of the androgyne to Ariadne. . . . Dionysos was considered both virile masculine and feminine. His femininity arises in, and as a response to, the feminine within his own nature. Because he loves the feminine, the feminine deeply responds to him.
The stories about him have three main themes: nature and fertility, experiencing and coming to terms with the emotional extremes of ecstasy and agony, and his connection with, love for, and constant devoted attendance by women. As such the Lover is a disturbing element to religions and individuals who repress the primitive and sensual elements of human nature in favor of reason. This has been a terrible mistake. First because we have lost contact with natural pleasures which are meant to enrich our lives. Second, because the rejected wild man in our psyche has developed into a raging beast just below our awareness. In our time, he is capable of erupting at any moment to wreak terrible destruction. The cultural rejection of his essential nature is the source of much suffering, and—in many sensitive and gifted individuals—madness.
Jung wrote:
The pagan religions met this danger by giving drunken ecstasy a place within their cult. Heraclitus doubtless saw what was at the back of it when he said, 'But Hades is that same Dionysos in whose honor they go mad and keep the feast of the wine-vat.' For this very reason orgies were granted religious license, so as to exorcise the danger that threatened from Hades. Our solution, however, has served to throw the gates of hell wide open. C.G. Jung. CW 12, 143.
The unfortunate solution Jung refers to is the cultural and individual repression of the healthy lover. Religion's severance of him from collective consciousness has contributed to the rampant materialism and epidemics of meaninglessness and depression that plague modern civilizations. If you look hard enough, you'll find a repressed Lover at the root of all addictions and violence.
To run from your heart's desires, mask them with denial or intellectualizations, or satisfy them with unhealthy substitutes such as addictions to alcohol, drugs, work or sex, are some hallmarks of the shadow Lover. His characteristics include fickleness, instability, touchiness, moodiness, sensitivity, irresponsibility, inconstancy, intense contradictory emotions such as ecstasy and despair, depression, a strong need to be independent and free, fear of commitment and success, and unwillingness to put serious effort into work he dislikes for the sake of relationships or security.
In youth, your Lover's passion for perfection and intense stimulation may be extinguished when you discover your partner's flaws, and you may fall in and out of love with alarming frequency. The same disenchantment may occur with your work. Your love for novelty and change makes it difficult for you to settle down or put serious effort into jobs that are not emotionally satisfying, or that restrain your freedom to pursue new interests and adventures.
Psychologists recognize this shadow Lover in Peter Pan, the eternal boy who refuses to grow up and accept adult responsibilities. He wanders from job to job, partner to partner, adventure to adventure—playing with whomever and whatever promises to deliver the next high, including hallucinogens, mood-altering drugs, and outsider music. His tendency to live by his own rules and leave when he's bored is exasperating and painful for loved ones. He may be afraid to succeed because that will require him to settle down. By midlife he may experience extreme loneliness beneath his charming facade. He's missing something and he knows it.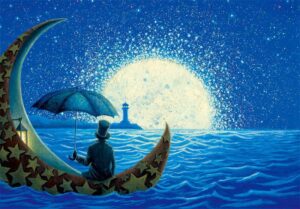 The mythical Narcissus is another type of Lover: far more attached to the imago, (as Harville Hendrix has so aptly named your unconscious mental ideal of your Beloved), and his own feelings than he is to the reality of his partner. He doesn't want to know or experience partnership with the real person onto whom he projects his Beloved so much as he wants to enjoy the pleasurable feelings that his thoughts and fantasies of him/her bring.
What obstacles do you erect that present you from asking for and enjoying the love and pleasure you need with your partner? With others? With life?
Read more about your Lover archetype in The Soul's Twins. This copyrighted material is from pp. 144-159.
Image Credits: Dionysus by BeniArtiste, Etsy. Moon Lover, Unknown.
Paper and E-book versions of The Bridge to Wholeness and Dream Theatres of the Soul are at Amazon. The Wilbur Award-winning Healing the Sacred Divide can be found at Amazon and Larson Publications.com. Jean's new Nautilus Award-winning The Soul's Twins, is at Amazon and Schiffer's Red Feather Mind, Body, Spirit. Subscribe to her newsletter at www.jeanbenedictraffa.com.