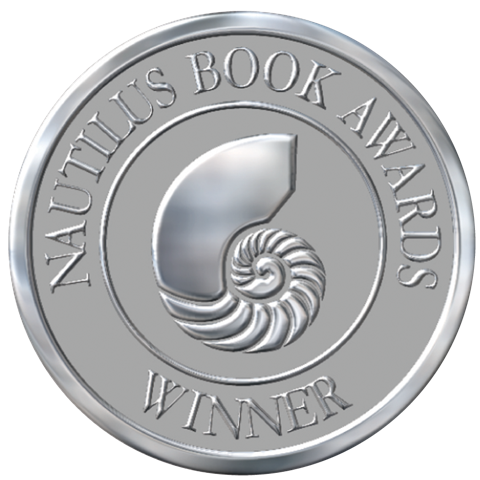 If we are connected on social media, you probably know what the title of this post refers to.  Last week the Nautilus Book Awards winners for 2020 were announced. The Soul's Twins received a silver medal! I'm over-the-moon excited. This is the big one, the one I've always admired and aspired to.
Former Nautilus Winners
Former Nautilus winners include: Deepak Chopra • Barbara Kingsolver • Thich Nhat Hanh • Marianne Williamson • Caroline Myss • Gregg Braden • Lynne Twist • Jeremy Rifkin • Lynne McTaggart • Matthew Fox * Daniel James Brown • Eckhart Tolle • Joan Borysenko • Hedrick Smith • Andrew Weil • Katherine Neville • And many more …
Wow! I never dreamed I'd rub shoulders with giants like these, many of whose books live on my bookshelves. What an amazing honor.
" 'Wisdom consists in doing the next thing that you have to do, doing it with your whole heart, and finding delight in doing it.' [Meister Eckhart] And this is the sense of the sacred." – Helen Luke
When I realized there was something I had to do I began The Bridge to Wholeness: A Feminine Alternative to the Hero Myth. That was in 1989. My greatest hope was that it would find a publisher. The thought of awards never occurred to me. To my astonishment, not only did it find a publisher, it landed on the short list for the Benjamin Franklin Award. The award that year went to Helen Luke, a Jungian analyst and author of Tapestry. Just to be on the same list with her was the greatest honor I had ever received.
In 2013 I went to Indianapolis to accept the 2012 Wilbur Award from the Religious Communications Council for my third book,  Healing the Sacred Divide: Making Peace with Ourselves, Each Other, and the World. Oprah Winfrey won an award from them  that year too. Pretty sure that would be my last book, I thought I had reached the pinnacle of my career.
Five years later, The Soul's Twins insisted on being born and I had to obey. The others had flowed out of me;  this one was pulled out kicking and screaming. My mother always said I had a one-track mind. I guess that's what saw me through. That, and Jill Swenson, who midwifed this book and helped me fulfill my mission. Thank you, Jill.
As a symbol, the chambered nautilus is a metaphor for one's spiritual evolution. Here's what Nautilus says about their mission:
Nautilus Mission

Our core mission is to celebrate and honor books that support conscious living & green values, high-level wellness, positive social change & social justice, and spiritual growth.. 
And this from the Nautilus website:
The Nautilus Awards Represent Better Books for a Better World

We are delightedly stunned by the outpouring of passion, commitment, and collaboration from all the entry submissions this year. The pulse of energy embodied in these books has indeed helped to spark the greater life of our world.

FURTHER, we are deeply humbled and honored to witness the Nautilus Mission ~ to spotlight Better Books for a Better World ~ continue to expand in both submissions and presence, globally. The spark is indeed propagating as we speak, creating powerful ripples that join and amplify the unitary pulse of our home planet.
I, too, am stunned, deeply humbled, honored, and grateful. My books are written with my whole heart, with help from my ego and unconscious. Throughout the entire process I feel the sense of the sacred. When I write a book I wake up slowly in the morning. While I'm still in that liminal, hypnagogic state between waking and sleeping, I often find my "mind" working out solutions to problems from the day before without my ego even realizing what's happening. When I awaken fully I practically run to my desk to get the ideas down. The cooperation between my conscious and unconscious brings such joy that sometimes I sit at my desk with tears of awe running down my face. Then all I can think and say is, "Thank you. Thank you. Thank you."
I believe we each create powerful ripples when we do the work we have to do with our whole hearts. It's infinitely gratifying when someone takes the time to let me know by writing a review — a huge gift — or a note, saying they've been touched by a ripple. I love to imagine all our ripples merging with ripples from all over the world to "amplify the unitary pulse of our home planet." This is why I keep writing.
Many of you know The Soul's Twins has also been nominated for a COVR Award. A sincere thank-you to those who took the time to vote for it. Each year COVR gives Visionary Awards to entries selected from among the best new products, electronic media, jewelry, music and books in the Mind*Body*Spirit marketplace. I should be finding out very soon if The Soul's Twins wins. If it does, I'll let you know here and on Facebook and twitter.
Meanwhile, I want to show you my gratitude for blessing me with your interest in my books by giving away a free signed copy of The Soul's Twins with the Nautilus Silver Medal seal on the front! To enter, all you need to do is comment on this blog post with your answer to this question: "Which archetype is your strongest?" I'll put all your addresses in a hat (or maybe a crystal bowl), randomly draw the winner next Monday, and announce it in Tuesday's post.