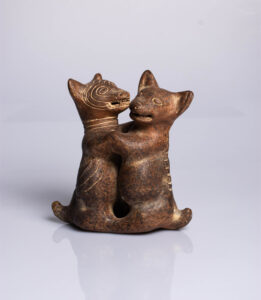 The last post shared the first part of my article, "Archetypes: Your Guides to Your Authentic Self," featured in the spring issue of 'Inspired" magazine. You can read the whole magazine here. That post ended with a discussion of how your personal experiences with your human mother and father influenced your attitudes toward the universal archetypes of Mother and Father in every psyche. And now to continue:
There's much more to the archetypes than just what you learned from your parents. Not all mothers and fathers have the same bright and shadow sides that yours did. Think of the recent presidential election in the US. Some of us think highly of Donald Trump, some despise him. This is likewise true of Joe Biden. Do either of these leaders have qualities similar to your parents or caretakers that you have unconsciously adopted? Do you like these qualities or not? How did they influence your vote? To all appearances, Donald Trump and Joe Biden couldn't be more different, but they're both examples of the Father archetype, and they both contain all the positive and negative potential of this archetype, whether they manifest it or not. Moreover, they also contain the bright and shadow qualities of the Mother archetype. These also influence their behavior.
Essentially, you voted for the candidate who made you feel more protected and safe. You did that because you associate safety and protection with the Mother and Father archetypes embedded in your psyche. Snakes don't have an archetype for Mother or Father. The female simply lays her eggs and slithers away, leaving her little snakelings to fend for themselves, and the babies do that just fine without ever knowing they lack anything.  But we humans hang around to protect our young because we instinctively know their survival depends on our nurturance of them. Mother and Father are mental images of our instinct for nurturance. When you were young, your parents were your whole world. Their ability to satisfy your instinctual needs and the quality of their care and love influenced your thoughts, attitudes, and behavior and still do. You probably chose your life partner based on their influence without even knowing it. Do you see the power your archetypes have over you? They're what make us human, with all our heart-breaking vulnerability, crude folly, and exquisite beauty.
Archetypes are mental images of your physical instincts. They don't have egos or consciences. They are nature, like animals who simply follow their instincts. Humans are nature too, but we've bitten the apple, so we think in terms of good and evil. When you created your self-image as a child, you left out parts of yourself you didn't like or were taught to think of as bad. But they didn't go away. What you disowned grew stronger in your unconscious. It's still there, and it still causes painful conflicts. To resolve your conflicts, you need to accept that you don't know everything about yourself, recognize your shadow when it shows up, and allow it to humble you instead of projecting it onto others. Then you can choose not to act on your negative impulses.
Your Mother and Father archetypes are your soul's sovereigns. When healthy, they serve humanity's need to nurture and be nurtured. Ideally, Mother compassionately protects and serves the physical, psychological, social, and emotional welfare of all that is young, new, innocent, needy, and vulnerable. Father nurtures by perfecting his skills and promoting his selfhood to become a just and morally virtuous leader who provides group stability and sees to the needs of all who depend on him. Together, Mother and Father work to provide the comfort and safety you, your family, and your community need, while encouraging the fullest development of your mature selfhood. Sometimes you act more from your Mother archetype; other times from your Father. But in the big picture, it doesn't matter. You need them both. Does it make any sense at all to repress one of your soul's twins because you associate it with gender?
My new book, The Soul's Twins, describes four archetypal pairs:
Mother and Father represent your instinct for nurturance. They seek lawful order and moral virtue.
Queen and Warrior represent your instinct for activity. They seek power and success.
Mediatrix and Sage represent the instinct for reflection. They seek release from delusion.
Beloved and Lover represent the instinct for sex. They seek love and pleasure.
These feminine and masculine pairs are what I call your "soul's twins". This book is your personal guide. It will help you distinguish which archetypes are essential to your soul's purpose, which need more attention, and which are content to stay quiet. Examples from mythology and history illustrate how the archetypes have played out in the lives of others. Suggested exercises help you take steps to change what isn't working. This knowledge will guide you toward healthier relationships with yourself and others.
As you acknowledge your archetypal twins, embrace their strengths, gentle their shadows, and integrate them into your awareness, a new image for your fifth instinct, the instinct for creativity, gradually emerges at the center of your psyche. This archetype is the Couple, a new name for your spiritual center and your whole, authentic Self. The goal of the Couple is conscious oneness in loving relationships. Evolving into the Couple's unitive consciousness is your reason for living, your magnum opus, your gift to humanity, and your path to individuation, wholeness, and enlightenment.
Jean Raffa's The Bridge to Wholeness and Dream Theatres of the Soul are at Amazon. E-book versions are also at Kobo, Barnes And Noble and Smashwords. Healing the Sacred Divide can be found at Amazon and Larson Publications.com. Her new book, The Soul's Twins, is available at Schiffer, Red Feather Mind, Body, Spirit and wherever books are sold. Subscribe to her newsletter at www.jeanbenedictraffa.com.