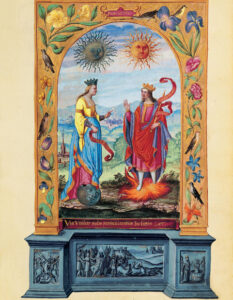 I'm honored that my article, "Archetypes: Your Guides to Your Authentic Self," is featured in the spring issue of "Inspired" magazine. You can read the whole magazine here. Since the article is twice as long as one of my usual blog posts, I'm reprinting it here and in the next post
"I'm more open to new ideas and theories that are personally meaningful."

"I'm more open to new ideas and theories that are logical and can be tested using the scientific method."
This pair of statements is one of twenty on Part I of The Partnership Profile, an informal self-assessment in my new book, The Soul's Twins: Emancipate Your Feminine and Masculine Archetypes. It's not always easy to choose one statement in each pair, because sometimes your preferences change depending on the situation. So it can take some self-examination to decide which one you usually prefer. And that's exactly the point of this exercise: to encourage you to reflect on who you are, why you act in predictable ways in certain situations, and what inner forces have the most influence on your choices.
The Soul's Twins highlights eight fundamental archetypes that humanity tends to associate with the binary genders. The reality is that every human embodies the same archetypal energies, yet, despite the rapid expansion of our psychological knowledge over the past 150 years, our cultures still tend to discourage us from using certain aspects of our natural potential and apply pressure on us to develop other potentials—which may or may not be of interest to us—because of our gender. Certainly, there are physical differences that predispose us to fill certain societal roles at certain times in our lives, and each individual is born with a unique personality with its own set of interests, skills, and preferences. But the fact remains: We all have the same psychological potential. The same emotions, drives, instincts, archetypes, and goals. And when we repress any of these to fit cultural stereotypes, we do our souls a great disservice.
Every psyche contains two basic drives—a yin force and a yang force—that continually interact to create and replenish our psychological energy. Yin is your lunar, feminine drive for species preservation. Yang is your solar, masculine drive for self-preservation. You function at your best when you avail yourself of both as you go through each day, allowing them to balance your priorities and influence your thoughts, emotions, actions, and relationships.
We're also born with five basic instincts: nurturance, activity, reflection, sex, and creativity. These, too, impact your daily life in myriad ways. For example, hunger pangs trigger your instinct for nurturance. When you feel them your instinct for reflection prompts you to consider options: Shall I finish this project or eat lunch first? Your instinct for activity nudges you to get up, walk into the kitchen, and open the refrigerator door. Your instinct for creativity imagines which ingredients would make the most satisfying sandwich. Your instinct for sex urges you to prepare the most sensually appealing and pleasurable concoction you can think of! Hmmm. Maybe chocolate for dessert?
Imagine that all the qualities associated with each instinct are arranged on a continuum between a lunar archetype at one pole, and a solar archetype at the other. Your ego has its own comfort spot between them. In the case of your instinct for nurturance, your lunar archetype is Mother and your solar archetype is Father. Every child is born with an archetypal pattern for Mother and Father. Think of these patterns as images in a child's coloring book that come alive and influence you in powerful ways as you color them in. Because of our personal experiences with human mothers and fathers, no one fills in those patterns the exact same way. One person might put a smile on Father's face and a scowl on Mother. Another might do the opposite. You may imagine Mother bustling around in the kitchen and recall wonderful smells. I may have similar associations for Father. And my neighbor may not picture either parent in the kitchen.
The fact that archetypes are universal psychological patterns doesn't mean everyone has the same associations or preferences for them. Cultures vary in their attitudes toward the archetypes and individuals vary in their experience of them. Take a moment to reflect: Where do you stand between Mother and Father? What images come to mind when you think of your personal Mother? What feelings and emotions? What memories? What qualities do you associate with her? Are they mostly positive? Mostly negative? A mixture of both? Now ask yourself the same questions about your personal Father.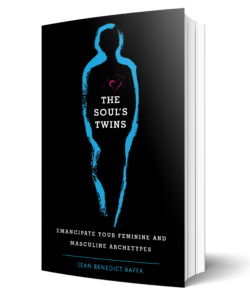 This exercise may have aroused some painful feelings like resentment, anger, mistrust, fear, bitterness, disgust, or sadness. You also felt some positive ones like trust, warmth, comfort, affection, joy, or peace. Did you ever meet someone new and take an instant like or dislike to them because they brought up some of these feelings in you? Of course. Because some people remind you of qualities your personal mother and father had that were instrumental in shaping your own personality.
Where do you stand between these archetypes in yourself?
I'll finish this next week. Meanwhile, you can read more about The Soul's Twins and order it here where you'll find the latest reviews, and here, where you can find out about other books from Red Feather Mind, Body, Spirit.
Image Credit: The Splendor Solis, Salomin Trismosin, 16th century.
Jean Raffa's The Bridge to Wholeness and Dream Theatres of the Soul are at Amazon. E-book versions are also at Kobo, Barnes And Noble and Smashwords. Healing the Sacred Divide can be found at Amazon and Larson Publications.com. Her new book, The Soul's Twins, is available at Schiffer, Red Feather Mind, Body, Spirit and wherever books are sold. Subscribe to her newsletter at www.jeanbenedictraffa.com.