In Part I of this series I asked (1)What would a new idea of who we are look like? and (2)What difference could it make to our world crisis if enough of us become coherent [united] in a new idea of who we are? 
To answer these questions I summarized findings from recent research in quantum physics as reported in the first half of The Field, a book by Lynne McTaggart. Here's my summary of the rest of the book along with some practical questions on which to reflect or do some research.
1.  The images and intentions of others can influence our dreams. McTaggart, p. 126 
Q: Can I hone my telepathic skills by comparing dreams with those closest to me to discover similarities? How could I use  telepathic skills to benefit others?
2. Ordinary humans have the ability to influence other living things on many levels:  muscle activity, motor activity, cellular changes, nervous system activity.
Q: Can I be more aware of my body and its language when I'm around people?
3. The influence seems to increase depending on how much it matters to the influencer, and how much s/he can relate to the object of influence. p. 133
Q. Can I monitor my body's influence in times of conflict with loved ones to see if my awareness effects a positive change in our relationship? 
4. Several common characteristics to experiments in remote influence tended to more readily guarantee success:  relaxation techniques (through meditation, biofeedback or other methods); reduced sensory input or physical activity;  dreams or other internal states and feelings; and a reliance on right-brain functioning. p. 134
Q. What techniques can I practice the next time I want to remotely influence a positive outcome for someone I care about?
5. When the left brain is quieted and the right brain predominates, ordinary people can tap into a "deep well of alert receptivity" which brings a state of unity with the single object being focused upon.  p. 134
Q. How can I learn to quiet my left brain and open to my deep well of alert receptivity. Who or what do I want to focus on when I do that?
6. When two people 'relax' and attempt to establish some kind of deep connection, their brain patterns become highly synchronized, and the most ordered brain pattern always prevails, nudging the less organized recipient toward a greater degree of order. p. 137
Q. Who would I choose to establish a deeper connection with to develop a more ordered brain pattern?
7. Children are open to far more information in the Field than the average adult. p. 138
Q. How can I help the children I know understand when and how they receive information from the field?
8. Our natural state of being is a relationship — a constant state of one influencing the other. Just as the subatomic particles that compose us cannot be separated from the space and particles surrounding them, so living beings cannot be isolated from each other." p. 138
Q. How can I enhance awareness of my connectedness with everything around me?
9. Tests conducted by the behaviorist Dr. William Broud suggested that a "living system of greater coherence could exchange information and create or restore coherence in a disordered, random chaotic system. The natural set of the living world appeared to be order — a drive toward greater coherence….By the act of observation and intention, we have the ability to extend a kind of super-radiance to the world." pp. 138-9
Q. How can I train myself to observe everything with benevolent intention?
10. "…healing through intention is available to ordinary people, although the healers may be more experienced or naturally talented in tapping into the Field."
Q. Is there someone whose healing I would like to effect through intention? What techniques can help me do that?
11. Illness could be a disturbance in the quantum fluctuations of an individual and healing might be a matter of reprogramming individual quantum fluctuations to operate more coherently. Illness could be isolation: a lack of connection with the collective health of the Field and the community. p. 194
Q. How can I connect with the collective health of the Field and my community the next time I'm ill?
12. Consciousness may live on after we die. p. 195
Q. What would I change about my life if I truly understood that?
13. Group consciousness, working through a medium such as the Zero Point Field, may be acting as the universal organizing factor in the cosmos.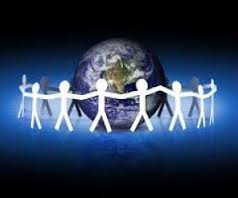 Q. What practical steps am I led to take to influence group consciousness toward more organization and order? 
In summary, McTaggart writes:
"We have far more power than we realized, to heal ourselves, our loved ones, even our communities. Each of us [has] the ability  — and together a great collective power — to improve our lot in life. Our life, in every sense, [is] in our hands." p. 226.
Next time: Implications for how we can help make a difference in the world. I invite you to add your thoughts.
Image Credits:  Google Images
Jean Raffa's The Bridge to Wholeness and Dream Theatres of the Soul are at Amazon. E-book versions are also at Kobo, Barnes And Noble and Smashwords. Healing the Sacred Divide can be found at Amazon and Larson Publications.com. Watch for her new book, The Soul's Twins, forthcoming from Schiffer Red Feather Mind Body Spirit on Nov. 17, 2020. For more information, subscribe to her newsletter at www.jeanbenedictraffa.com.