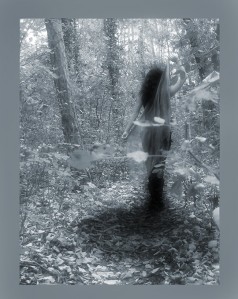 I lived the first half of my life in a mist. I thought I could see but was blind to the sacred.
At 17 a spiritual awakening turned me into an avid seeker. My ideas about God came from other people and the Bible. I read a chapter every night.
At 27 I experienced a crisis of faith. I sought help from three people—two Episcopal priests, then a spiritual leader at our church. The third request was the charm. After Pat's prayer I saw a blue pillar of light. I knew the sacred was real, and responded by praying harder and being more active at church. Little else changed. I still longed for a conscious connection with my God-image — a masculine deity who lived in an invisible spiritual realm—but still didn't have it.
At  37 a new discontent settled in. I saw aspects of myself that were totally different from what others saw. Some were shockingly rebellious, petty, ugly, and ignoble. I kept them to myself and maintained the loving, good-girl social mask I still wore. One night my lack of authenticity had become so painful that I prayed fervently for God to teach me how to really love. Not just pretend. Three months later I experienced a terrifying Kundalini awakening that presaged a new phase of my journey.
During the 1980's, I suffered a classic spiritual Dark Night of the Soul. Outwardly, I was fine. I attended graduate school, earned my doctorate, taught at our local university, was president of the PTA at my son's junior high school, helped my daughter advertise her campaign for high school student council representative, hosted fun theme parties for our friends, cooked dinners, and listened to my husband's recounts of his day at work. Except for an occasional tearful, rage-filled, wine-fueled outburst at home, I was the model of perfect woman, wife, and mother. Inside, I was in a hell of torment. Nobody suspected the terrible stress and fierce will-power it took to maintain my façade of normalcy.
I couldn't accept my shadow. I thought there was something terribly wrong with me. I questioned my beliefs and argued with God, terrified I'd be punished for blasphemy. When a friend invited me to join a Jungian study group, I was too desperate to refuse.  I found Jungian psychology, dreamwork, my unconscious, inner work, the Self, and my soul's banquet of dreams and myths. This nourishing soul food transformed me into a baby chick who pecked through her shell, stepped out of the mist, and entered a bright new world.
At the age of 47 I learned that myths are symbolic expressions of my soul's relationship to the spiritual mysteries. While not necessarily true on the outside, myths are always true on the inside. Dreams are personal myths. Following the meaning in my dreams and myths helped me recover my soul.
"The only way we can conceive of God, who remains imperceptible to the senses and to logical proof, is by means of symbols, which it is the chief function of the imaginative mind to interpret." ~Karen Armstrong  A History of God

"In effect, the life of the imagination is the spiritual life." ~Jungian analyst Connie Zweig The Holy Longing
Three months after I started recording my dreams we were staying at the beach when I had this dream.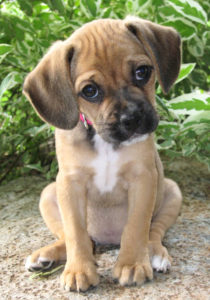 #46: Temple in the Wilderness
I'm walking through woods on a path cut through the earth. I'm seeking a stream I know to be at the bottom. I find it where it spills into the sea and follow it to a mist-shrouded garden. In it are ruins of a Greek temple. One column remains upright. In awe, I kneel to examine some creamy-white flowers. Near the bottom of the plant is a pyramid-shaped arrangement of four glowing, waxy white horses facing the four directions. Surrounding them are white blossoms so beautiful I can hardly take them in. A puppy named Prince playfully grabs my hand, inviting me to follow him. A young woman asks his name and is pleased to hear it. Two other people bring food for the puppy. After seeing a couple walking hand-in-hand through the distant mist I awaken.
This dream moved me profoundly. I won't go into my associations for the symbols of path, woods, stream, ocean, garden, Greek temple, column, mist, kneeling, white flowers, glowing horses, four directions, the puppy Prince who wants to guide me, the people who feed him, or the couple walking through the mist. But when I awoke I felt as if a cold, hard and fearful place in my heart was softening, melting down, warming. That morning I carried an ice cube to the ocean shore. Kneeling in the sand, I held it in the warm salty water until it melted. My body remembers.
I deepened my study of symbolism and myths. Designed our dining room to remind me of the misty temple in the woods. Started a manuscript which became The Bridge to Wholeness. It opens with a fairy tale that is a metaphor for my spiritual journey.
"…to those of us attuned to the one psyche, no one can fool us into thinking we are just indulging in our 'imagination'. We have had a taste of the ever-new bubbling fountain of creation…from that point on, for the intoxicated soul thirsty for more of the gods' nectar, there is only the creative act…the 'making' that reveals the artist within each of us." ~ William Horden
With each imaginative act we make to respect the truths that bubble up from our souls, we become artists who re-myth our lives. It's never too late to discover the sacredness that awaits us beyond the mist.
Jean Raffa's The Bridge to Wholeness and Dream Theatres of the Soul are at Amazon. E-book versions are also at Kobo, Barnes And Noble and Smashwords. Healing the Sacred Divide can be found at Amazon and Larson Publications, Inc. Watch for her new book, The Soul's Twins, to be launched by Schiffer Publishing this October.