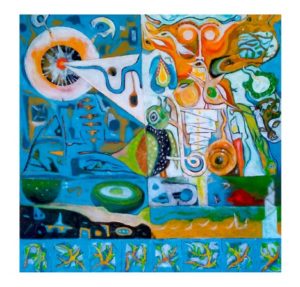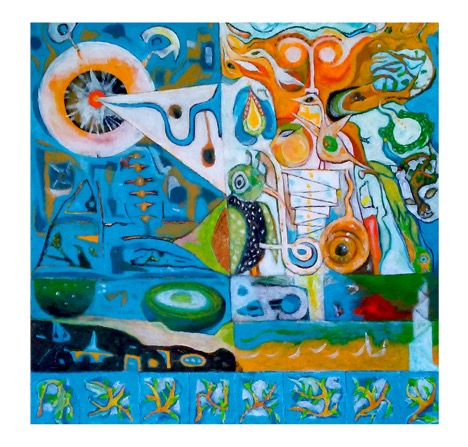 Before words, there were symbols. Symbols arise from our Source. We and our world are resplendent with symbols. Our clothes, art, the colors and objects in our homes and where we work and play, the people we love and admire, everything in the natural world — all this has symbolic meaning for us. We do not create the symbols that move us and cannot control how we feel about them. They are real and alive in us and in the world. Like the archetypes we associate them with, symbols can transform our lives. If we trust the meaning and insights they evoke we can grow toward fulfillment.
In Jungian psychology, the Self is your god-image, the energy that compels you to seek a more conscious, enlightened way of being. Your ego often rejects its guidance but it never gives up. In its aspect as Dream Mother it reveals itself in symbols and actions based on six basic attributes: wholeness, centrality, unity, love, pattern, and the life-giving force. See if you can see any of them in this exquisite painting by Toronto artist, Steven McCabe. I'm thrilled that it's featured in my new book, The Soul's Twins.
Wholeness: Jung associated wholeness with circles and quaternity, or four-ness. There are four directions, four elements (wind, earth, fire, and water), and four winds. Rooms have four walls, there are four cardinal virtues, and mandalas have four sections. Humanity has four basic ways of experiencing life: physical, mental, emotional, and spiritual. Whenever a circular object (coin, table, bowl, sphere) or four-ness (four people, four flowers, four sides to a frame, the numeral 4) appear in a dream, I consider their implications for my journey into wholeness.

Centrality: The Self is the well of energy at your psyche's center from which every psycho-spiritual event, including symbols,  springs. It is often represented by things with centers; for example, the heart (a vital central organ), a circle with a dot in the center (the hole in a Chinese jade disk opens to heaven), and ancient symbols for the center of the world, including a cosmic tree  (Jung saw the vertically growing form of a palm tree as a symbol of the soul) or sacred mountain.
Unity: Since the Self's creative energy is renewed by the ongoing tension between your masculine and feminine life forces, it is often symbolized by a union of opposites: pairs of things like a Couple, reciprocal actions, the Divine Androgyne with attributes of both genders, twins, crosses, two interlocking circles, the hexagram or double triangle, the yin-yang symbol, weddings, wedding rings, sex, bridges, and images of the unity in multiplicity like a pearl necklace or mandala.
Love: Spirit's primary characteristic is love. As your god-image, the Self can be represented in dreams via symbols like hearts, roses, doves, apples, maple leaves, and people engaged in loving actions like sex, nursing a baby, kissing, forgiving, helping, healing, gift-giving, or sacrificing. When your dream ego feels and demonstrates love for others, or when others make you feel loved, you can acquire insights about your capacity for love and the Self's love for you.
Pattern: Since we think of God as the creator and sustainer of the underlying patterns that support life, the Self is suggested by patterned walkways,  mosaics, lattices, mathematical arrays, music, webs, grids, the Diamond Net of Indra, holograms, intricate geometric gardens, mandalas,  jewelry, and so on.
Life-Giving Force: All symbols or acts of insemination, creativity, initiation, birth, growth (unusually wise babies and children, seedlings, buds, green plants), transformation (butterflies), or movement and change (a snake shedding its skin, the double-stranded DNA spiral, spinning wheels, walking through a doorway into an unknown realm), refer to the miracle of your life and the psychological and spiritual forces that awaken and sustain you.
If you don't understand the power of symbols, you can easily be overwhelmed by the archetypal energies they carry. Where the ego is powerless in the face of an archetype, the god-image is honored. This takes the heat off the ego. The ancient Greeks didn't know why they fell passionately in love. They found reassuring answers in the god Eros with his bow and arrow, and Aphrodite with her magic belt. When they were overwhelmed with fear, the sight of a vulture flying overhead might have inspired them to make a sacrifice to Ares, pick up their swords and shields, grab their flaming torches, and set off in their chariots.
Jung said the gods have become our diseases. He meant that many people still cling to rigid old god-images of power, punishment, and retribution. When they feel afraid and powerless, old Ares can infect them like a virus. Someone waves a flag with a divisive symbol on it, and off we go to war, whether in the streets of our town or a foreign country. That's why we need self-knowledge, especially in these frightening and turbulent times.
Practice being aware of how and when symbols move you. If you find some that elicit fear or prejudice, choose to refrain from acting out with antisocial behavior founded on religious beliefs or other biases. This is how you can make a positive difference. Pay attention to your dreams tonight. If you have one that features the Self, I hope you'll share it here.
Note: If you didn't receive my first newsletter in May, scroll to the bottom of this page to sign up. On August first you'll receive the next one with my latest news about The Soul's Twins.