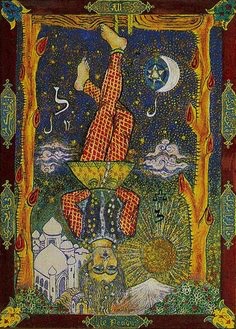 The coronavirus pandemic has called forth some unsettling archetypal forces in all of us. In normal times we ignore most of them as we go about our daily business. But our daily business has been interrupted by our species' relentless destruction of biodiversity. This has created the conditions for a viral disease that impacts the health, economy, and well-being of countries throughout the world.
This plague has crushed our safe and familiar hamster wheel. We're forced to slow down. Our feet are tied to the present moment. In this in-between space we can see the past and imagine the future. Recognizing the dysfunctional aspects of our old lives sets up new conflicts, tempts us to imagine new ways of thinking and living. What outworn habits and attitudes will you leave behind? With what will you replace them?
The Hanged Man Tarot Card addresses times when everything is upside down and life and death seem to hang in the balance. Times when something old is dying and something new wants to be born. What can you learn from the Hanged Man?
Use the following incisive questions to do a status check on the well-being of your mind, body, and spirit.
Mind: How are you feeling about the forced isolation, the threat of illness, the economic instability? Can you honestly acknowledge uncomfortable emotions or do you tell yourself you're fine? Can you feel your fear? Anxiety? Anger? Sadness? Depression? Resentment? Frustration? Denial? What feelings are driving your decisions? Which ones prevent you from making healthier choices? Everyone experiences feelings like this and we each respond to them in our own way. What is your way? Has this time of uncertainty brought out the shadow of your inner child? Does it trust the grownups to take care of you? Or is it afraid to trust anything at all?
Perhaps this time has awakened the shadow of your inner adolescent. Do you blame your parents and other authorities who are supposed to protect you? Are you angry at law enforcement, the government, religion? What face do you show the world? Do you act bold and bullet proof? Rebellious and defiant? Strong and independent? Or are you fearful and dependent? Do you cover up your feelings with a mask of apathy? Nonchalance? Indifference? Do you have a laid back, devil-may-care attitude? Do you find diversions that engage your mind and sap your energies so you don't have to feel anything at all?
What about your relationships? Who's in charge of your behavior toward others: your shadow or your wiser Self? Are old grievances, resentments, wounds, and disappointments bubbling to the surface? Do you take out your frustration, fear of failure, or sense of helplessness on your loved ones, or are you kinder and more grateful for them? Can you listen to criticism and accept the truth without being angry and defensive or do you lash out in retaliation? Do listen to others? Can you communicate with patience, honesty, and self-restraint? Do you withdraw or draw closer? Are you supportive or critical?
Body: Remember that your mind and body are connected. How you treat one automatically affects the other. Do your self-criticism and self-doubt sap your energy? Do you attend to your health or neglect it? Are you experiencing new or intensified physical symptoms? Which parts of your body are asking for your attention?  What effect do your thoughts and emotions have on your physical health?
Do you get enough exercise? Do you stress yourself out with worry and too much activity? Do you make time to rest and relax? Or do you rest too much? What about your eating habits? Are you eating more or less? Do you eat healthy food or junk food? Are your meals balanced? What about your hygiene? Is it better or worse than before the virus hit? If worse, how does that make you feel?
If you don't like the way you feel about any aspect of your physical health, devise a plan that will make you feel better. For example, order supplements and healthy food to be delivered to your home. Spend more time in nature. Find ways to exercise at home.
Spirit: The Magician Tarot Card represents willpower, an aspect of your sacred inner Self. Magician says it's time to tap into your full potential. Throw yourself into activities that bring out the best version of yourself. Harness the Magician's power to create the world that best suits who you really are. Work to become the individual you are meant to be.
Can you find the humility to ask for help from forces more powerful than yourself? Can you use your willpower to surrender your ego's desires to a higher will?  Can you tolerate the tension of uncertainty about the future with trust and hope?
Can you remember your childhood passions and dreams? Can you find the willpower to fulfill them? Can you hear the song your heart still sings despite everything you're going through? Can you stay present to gratitude and joy in the moment?
Notice the questions that make you uncomfortable and take steps to change them. Find creative solutions. Do things you've always wanted to do but never had time for. Refuse to lapse into Inertia, idleness, escapism, procrastination. The choices are yours and you are powerful enough to make them. If you attend to and recreate your inner world, the outer will follow. How will you turn this time of misfortune into an opportunity to grow into the person you really are?
Jean Raffa's The Bridge to Wholeness and Dream Theatres of the Soul are at Amazon. E-book versions are also at Kobo, Barnes And Noble and Smashwords. Healing the Sacred Divide can be found at Amazon and Larson Publications, Inc. Watch for her new book, The Soul's Twins, to be launched by Schiffer Publishing this October.