My son brings Izzy, his four year-old golden retriever, to our house. We will dog sit until his family returns from their winter vacation.  She'll be with us for five days. I love this dog, but she's not easy. She's big, rambunctious, needy, demanding of attention. Will the time and attention I'm willing to spare be enough for her? I hope so.
We take a little walk. She sniffs around, does her business. Good. We return to the house so I can work and she can rest.
It's evening.  I feed her and leave for my ukulele lesson. When I return home Fred says our daughter has invited us to join them for dinner at their favorite Italian restaurant. We are delighted. Izzy will be fine alone for a while. She's been here many times. I give her a treat, tell her we'll go for a walk when I get home, say goodbye.
Over dinner our granddaughters recount last week's accomplishments. A perfect score on a difficult and important math test.  A thrilling promotion from the junior varsity to varsity softball team.  Does anything feel better than this time out with them?
Back home, Izzy wakes up  from her nap on the kitchen floor. She looks up at me, tail thumping, waiting to see what's next. I wrap her leash around my shoulders, stuff a green doggy-waste-bag in the pocket of my blue jeans, and we step out the front door.  Our little neighborhood is small and secluded so the leash is just a back-up plan in case we run into cars or other late-night dog-and-human-walkers.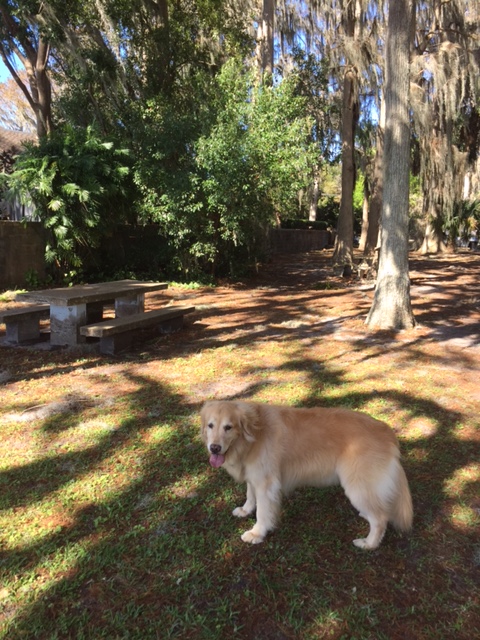 I love being outdoors at night. The fresh cool breeze off the nearby lake. The quiet. The shadows. The open space. The peace. No people to talk to. No cars to avoid. A few pale street lights…just enough to keep Izzy in sight. The pleasure of giving her this time out, knowing she's enjoying it, feeling confident and secure because I'm there with her.
She stops in the middle of the road, sniffing road kill. It's too dark and the creature's too long gone to tell what it is. Was. Osprey, raccoon, opossum, squirrel?  I look at the stars, happy to wait, enjoying her pleasure.  She glances back at me. I step forward, so does she. We move on to the next olfactory infusion. She stops, transfixed. I stop, transfixed. Does she remember I'm here, or is this new smell her entire universe in this moment?
We walk on. She sniffs something else, looks back, reads my body language. "It's okay. You're okay," my body says. She understands and moves on. I'm still her lighthouse. I follow her lead. Knowing we're connected as surely as if she were on a leash. Gratified that we trust one another so much that she doesn't have to be tied physically to me. Pleased that she's free to follow her nose. Humbled that we're so acutely aware of the significance of each other.
We approach a crossroad. She looks back at me. Looks to the left. Looks to the right. Starts off to the right. No, I think. Left toward the lake is better. No traffic that way. She'll be safer. I whistle one note. She freezes. Glances back. I point to the left. Just a slight movement of my arm and index finger. She turns around and goes left.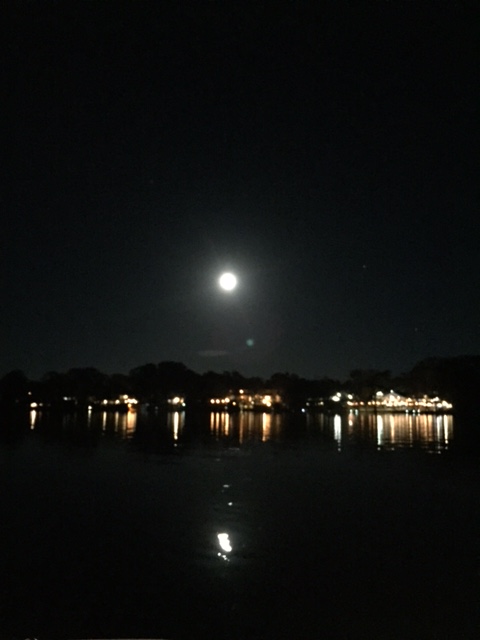 I feel a surge of joy. This moment. This connection with Nature, this utterly delicious intuitive knowing. This trust between two animals who have such different languages and ways of processing life.
So different, and yet….we see each other. We know each other. In some invisible way we are touching each other, our minds sharing the same time and space. It feels magical. Miraculous. We're part of a mystery so vast my mind can't encompass it.
But, oh! I can enjoy it. This night under a starry sky. This dog who trusts me, who I trust. This connection to the unknown. I'm filled to bursting with gratitude and love. Does anything feel better than this time out?
Jean Raffa's The Bridge to Wholeness and Dream Theatres of the Soul are at Amazon. E-book versions are also at Kobo, Barnes And Noble and Smashwords. Healing the Sacred Divide can be found at Amazon and Larson Publications, Inc.