Lovers

"The original sperm from which we are formed is masculine and feminine, the one which is in the majority wins, but the other side does not die, it remains living but as a minority, just as in politics the Government and the Opposition both exist." ~Carl Jung, ETH, Page 216.
Unfortunately, whether we are talking about the masculine and feminine attributes of our physical bodies, the psychological relationship between our inner masculine and feminine qualities, or relationships between males and females, Jung's use of the word 'Opposition' in the above quote is only too appropriate.  Once our egos start identifying with one principle in childhood, we tend to set up an antagonistic relationship with the other, and this polarization permeates every aspect of our lives.
Dualistic thinking appears to be a natural and inevitable by-product of ego-formation in the first half of life, but it does not have to end there. Nor should it, if we want to keep growing. As Dr. Jung noted, we're all formed from both principles, and each of us has our own unique spot somewhere along the continuum between them. Ultimately, our satisfaction and fulfillment in life depends on finding our own place and learning how to be true to it.
"It is only possible to live as we should if we live according to our own nature. But in these days we live by our brains alone and ignore the very definite laws of our body and the instinctive world. We damage ourselves severely when we offend against these…" ~Carl Jung, Modern Psychology, Page 219.
As long as we're unaware and unaccepting of our true nature and fuller potential, we inevitably damage others too. Regardless of our gender, if, as a child, we learn to fear, mistrust, and dislike our fathers or other adult males, we may grow up to feel the same way about our own masculine sides, other men, or the masculine sides of women. Our attitudes toward our mothers and adult females will likewise effect our attitudes toward our feminine sides, other women, and the feminine sides of men.
We all have different personalities, experiences, biases, complexes and shadows, and no one wants to look at their painful aspects. But we ignore them at our peril, because our disowned selves influence our health and the health of our relationships.
Fortunately, there is an easy way to spot our prejudices and barriers: they are mirrored every day in intimate couple relationships. But unfortunately,

"We have not been educated to look inwards, though most people are able to give their attention to outside things." ~Carl Jung, ETH, Vol. 3, Page 13.
If we want loving couple relationships, we must redirect our attention from the outer world to the inner.  We must commit ourselves to practices which reveal our soul's truths, which we must accept, especially the painful ones. If we persevere, over time our wounds begin to heal and our perspective changes. As this happens our outer lives change too.
We will never change completely and our shadow will always be with us, but we can recognize it sooner and make reparations faster. Moreover, accepting and integrating our fuller potential empowers us to break out of our prisons of conformity and blossom into our individuality. Gradually our resistance to, and fear of, others and the unknown lessens. We pretend less, react less habitually, feel less need to conceal our honest feelings or stifle our gifts. Our need to know everything, control anyone, or prove anything diminishes. Defensive postures such as resentment and hypersensitivity soften.
We grow more mindful, less agitated. We can more easily relax into the present moment. We can anticipate what the next may bring with pleasure and enthusiasm. We can make original, authentic choices. When we feel our prejudices, painful emotions and unhealthy habits rising within us like monsters from the deep, we can find new ways to express them without hurting others.
Over time, our thoughts and behaviors spring more often from healed archetypes than wounded stereotypes. Life becomes a delightful gift to be savored; less of a contest to win, obstacle to overcome, or ordeal to be endured. Thus do we create an ongoing, original work of art:  an increasingly more authentic, empowered, and conscious being with balanced energies which flow appropriately between masculine and feminine, here manifesting qualities of the drive for self-preservation, there acting from the drive for species-preservation. In a culture distorted by one-sided worship of the masculine, integrating the feminine brings a refreshing return of feeling and the ability to live with soul.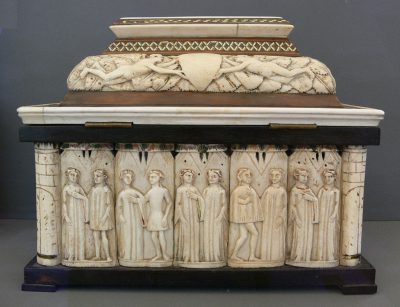 Respecting both masculine and feminine values fashions a new morality of impeccable integrity and personal responsibility based on universal standards of justice and care for all. Our wish to cause as little pain as possible, combined with our growing ability to see and restrain our shadows, helps us listen with patience and tolerance while allowing our partners to speak their truths. Creating the Couple within dramatically increases our hope of healing our relationships and establishing the intimacy and compassion for which every soul longs.
"If our inner journey does not match and lead to an outer journey, we have no true freedom or "salvation." Richard Rohr Online Daily Meditation, January 16, 2017.
And I would add, if our inner relationship does not lead to a more honest and healthy couple relationship, we can be sure we are neither spiritually mature nor enlightened.
Image Credits: Wikimedia Commons.  
Jean Raffa's The Bridge to Wholeness and Dream Theatres of the Soul are at Amazon. E-book versions are also at Kobo, Barnes And Noble and Smashwords. Healing the Sacred Divide can be found at Amazon and Larson Publications, Inc.