Obviously we do not know how the ego arose in man. We have certain myths showing how ancient man thought about this problem, and we can observe the phenomenon in very young children today. Just as the individual child must undergo training and discipline, so too the primitive nature of man had to be housebroken and domesticated, restrained and adapted, if he was to advance in culture and in ability to control his environment. M. Esther Harding, Psychic Energy:  Its Source and its Transformation, p. 197.
The construction of the ego progresses through three chronologically unequal "epochs" of self-awareness, each of which provides a support pillar for the next span.  For most of us, the first, Epoch I, is of relatively brief duration;  the second is quite long, and the whole of life for many people; and the third sometimes does not even begin.  Each epoch generates a specific form of consciousness that directly influences the choices we make and ultimately, the future of our world.
Epoch I: Maternal Physical Consciousness
At birth our self-awareness is limited to our physical instincts and five senses. For one brief and magical moment in time, Epoch I is pure nature. In this glorious paradise where we explore the world and satisfy our physical needs, there is no yesterday, today, or tomorrow. If we have a concept of time it is that we dwell in eternity. If we have a concept of God it is this bliss of oneness, fully immersed in a maternal ocean of innocent, unconscious, infinitely pleasurable life.
Epoch II: Paternal Ego Consciousness
By around the age of three, most children's egos are consolidated enough to think of themselves as separate individuals. Jung defined the ego as the organizing center of the conscious part of the psyche. This is usually when memory begins. Recognizing our physiological separateness from Mother and our capacity for independent action doesn't always result in mature behavior, but it does make it possible for us to evolve into the more mature form of ego-awareness I call Epoch II.
Carl Jung reported that he was eleven when one day on his walk to school he stopped with the sudden revelation: "I am! I am what I am!" He realized that until then he had been living in a mist. From then on, his  process of maturation was slow and gradual.
The ego experiences several spurts of increased self-awareness associated with developmental stages such as adolescence, young adulthood, mid-life, and elderhood. Each stage presents new challenges which make us aware of previously unknown needs and desires. At such times, most people gain valuable self-knowledge that furthers their inner growth, but fear and habit can hold us back, and we can get stuck at any time along the way. If this happens, our psychological maturity and religious thinking can stop expanding even though our bodies and social behaviors continue to age and change.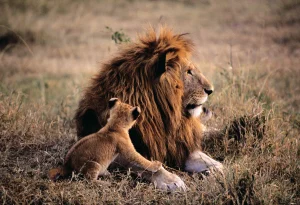 A primary feature of Epoch II is the ego's preference for masculine values. If Epoch I is Mother's realm, Epoch II belongs to Father. Whether or not a personal father or other adequate male model is available, children will try to satisfy their growing need to adopt masculine values by transferring their allegiance to teachers, peer groups, teams, nations, religions, or causes.  Philosopher Michael Washburn explains:
To the child, the father is the exemplary model of independent life—especially in the traditional patriarchal household, where he is . . . a sovereign master. Accordingly, the child senses that if it can win the father's acceptance it can enter the father's world and thereby share in the father's independence and extricate itself from dependence upon the mother. Michael Washburn, Transpersonal Psychology in Psychoanalytic Perspective, p. 69.
Another feature of Epoch II is dualistic thinking. It arises naturally when we separate from Mother's realm and begin to differentiate and define ourselves. We ask ourselves, "How am I like her and how am I not? What behaviors will hurt me and what will keep me from being punished?  Who will help me and who won't?" We sort things into pairs of clearly defined opposites: that which is desirable, or "good", and that which is undesirable or "bad." If we felt relatively safe and comfortable during Epoch I, we usually identify with the "good" and repress the "bad". As a function of our drive for self-preservation, this sorting process comes so naturally that our ego doesn't realize we're doing it. We're just trying to survive with minimum discomfort. Rarely do we suspect we might be shutting ourselves off from some very positive potential.
A third definitive feature is repression toward both self and other. The "bad", dark side of dualistic thinking fosters bias, prejudice, suspicion, hostility, fear, aggression and repression. Most Epoch II egos contain their repressive tendencies without causing undue damage or harm. But there are always some who obsess over the "masculine" qualities so highly prized during this phase that they become inordinately repressive to "feminine" otherness. They can become so self-righteous and closed-minded that they gravitate, like the Sky God onto which they project these qualities, toward agitation, divisiveness, domination, and war.
More next time.
Art Credits:  Lucy Campbell. Every Morning the World is Created.  Art Wolfe: "Father Knows Best.
Jean Raffa's The Bridge to Wholeness and Dream Theatres of the Soul are at Amazon. Healing the Sacred Divide can be found at Amazon and Larson Publications, Inc. Jean's new Nautilus Award-winning The Soul's Twins, is at Amazon and Schiffer's Red Feather Mind, Body, Spirit. Subscribe to her newsletter at www.jeanbenedictraffa.com.