While empowering our masculine sides was a necessary phase of our psycho-spiritual development, our ego's repression of our feared and unknown feminine sides has brought about the dangerous imbalances we see in today's world. But to put all the blame on males and masculine values—or the patriarchies, Gods and religions they created—is just more projecting.
The truth is that we are all still divided and incomplete. The Great Mystery of Life some call God didn't deliberately punish Adam and Eve and the people of Babel any more than it wants to punish us. It wants us to grow into our fullness, but our divided egos are resisting it with all their strength.
There is a time for everything. The dualism that gave rise to our evolving ego and developing Christ potential has become our worst enemy: the anti- Christ. And as long as we repress unwanted parts of ourselves and project them onto others—whether these be our compulsive instincts, dangerous emotions, or frightening aspects of our masculine and feminine sides—we will struggle through the darkness of confusion and the world will be a dangerous place.
Fortunately, our inborn urge to transcend our limitations is still at work. For the first time in human history, the relatively new science of psychology is revealing the unconscious forces within us that led us to this precipice, and this understanding is expanding our conscious awareness. We are seeing that the cherished God-image of a Father/God/ King who is an objective reality beyond ourselves and prefers our tribe to any other is a product of dualistic thinking which has created religious bigotry, divisiveness, narrow-mindedness, repression, persecution, fanaticism, and terrorism.
The extreme polarization that permeates society today is intolerable to most of us. But what can you and I possibly do if the world's greatest thinkers, philosophers, political leaders and spirit persons have failed to create healing change? Does it make sense to redouble our commitment to the very thought- patterns and ideologies that brought us to this point, or are we ready for radical change? And if we are, what might healthy change look like?
A lifetime of searching has led me to a path that works for me. There's nothing new about it. Every mystic and authentic spirit person from every religion has always known about it. It exists in us. This is a way of humble, intentional, and persistent self-examination in service to accepting our true selves and consciously connecting all pairs of opposites into integrated wholeness. I call it the path of Mandorla Consciousness.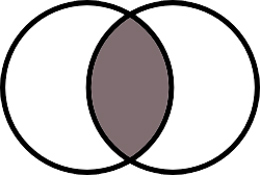 Imagine two circles that move toward each other until they overlap. One circle represents your conscious ego. The other, everything you don't know or like about yourself that you've rejected and relegated to your unconscious. The almond-shaped symbol created by their merging is a mandorla: a central meeting place where your ego conducts imaginative dialogues with the dreams, images, forces, and characters from your unconscious. Authentic religions have long considered this a holy place of transformation and transcendence because religions are founded on compassion, and compassion requires connection with otherness.
Our potential for Mandorla Consciousness is the same potential humanity once associated with Sophia's holistic wisdom. But before we can return to this holy space and know it for what it truly is, we need to undergo the initiatory ordeal of suffering into consciousness. We need to see our resistance to the pain of growing. We need to understand that our ancestors justified their fear of change by imagining a God who didn't want them to change either. We need to admit to our own fears, and experience the sacred healing power of love that sleeps at our core and is unveiled when we open ourselves to otherness.
Our hope for personal and world peace lies in self-discovery. This work begins as we acknowledge our individual and cultural shadows, and it comes to fruition when we invite our disowned masculine and feminine sides into our awareness. By facing our own capacity for evil as well as good, we will acquire humility and compassion for others. By accepting our soul's potential for wholeness we will free ourselves from the chains of inferiority and self-hate. And by honoring the nobility and worth of our inner Mother/Queen and inviting her to enjoy equal partnership with our Father/King, we will integrate otherness and return to our true home: a conscious, evolving partnership with the Sacred Mystery of life.
Note:  This post and the previous one were originally published by the Center for Action and Contemplation under the title, The Mandorla Consciousness. Radical Grace, Summer 2012, vol. 25, no 3, p. 18.
Image Credit:  Mandorla, by Cicero Greathouse
Jean Raffa's The Bridge to Wholeness and Dream Theatres of the Soul are at Amazon. Healing the Sacred Divide can be found at Amazon and Larson Publications, Inc. Jean's new Nautilus Award-winning The Soul's Twins, is at Amazon and Schiffer's Red Feather Mind, Body, Spirit. Subscribe to her newsletter at www.jeanbenedictraffa.com.