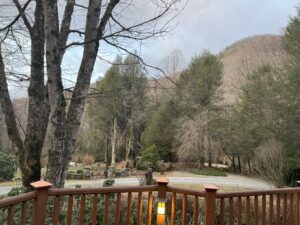 I love the week between Christmas and New Year's Day. It has always stood out from the other 51 weeks in a year like a peaceful Zen garden, a special oasis where I attend to soul needs that require annual closure.
During the 80's when I was juggling parenting with college teaching, I often spent this week assembling and basting together sandwiched layers of fabric backing, cotton batting, and the quilt tops I'd been working on all year. It took another year of hand-quilting everything before I presented them to my children the next Christmas. After they each had a quilt of their own I used the last week of the year to start more quilts for our new mountain cabin. When these were finished we took them with us for our annual years'-end visit.
On the outside, the 80's were a time of perfecting and preserving my persona to fit the collective values of the time in which I was raised. But on the inside I felt I'd been shipwrecked and was living on a private, isolated island. I spent most of my time there fishing in the depths of my psyche for psychological sustenance that could help me understand myself and resolve my inner conflicts.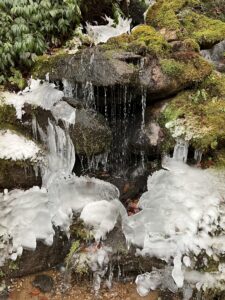 Then, in the fall of 1989 I found what I had been looking for: I joined a Centerpoint group based on Jungian psychology, and suddenly the lights came on! I don't remember what I did during the 52nd week that year but I'm pretty sure I would have spent most of it reading, studying and underlining one of the 20 or so books by Jungian analysts I had ordered from Inner City Publishers. Intense study was the first of the practices I undertook that made the year of 1990 a threshold into the most life-changing, soul-satisfying and creative period of my life.
The other main practice was recording and studying my dreams. Throughout the nineties I did dreamwork almost every morning and wrote every afternoon. I also meditated and practiced yoga. And I always devoted the 52nd week of each year to rereading my dream journals, summarizing important themes and trends, and highlighting valuable insights. Remembering and integrating my soul's processes at the end of every year was an extremely valuable ritual for me in those days. Essentially I was building a new foundation for my psyche and I could feel it growing stronger with each passing year. This was my decade of finding, connecting with, and honoring my Shadow and the Self.
The new millennium brought new insights and year-end rituals. Feeling an unprecedented need to get in touch with my body and nature, I usually spent the 52nd week hiking and climbing the mountains surrounding our cabin with my granddog Bear, then his little sister, Izzie.  As our grandchildren were born, they and their parents would join us. We played games and enjoyed lots of physical, outdoor fun like sledding, making snow angels, and building snowmen. We also started some annual food traditions, like celebrating their arrival with a welcome meal of chili, salad, homemade biscuits, and key lime pie, making monkey bread with the kids the next morning, and enjoying a meal of Great Grandma Raffa's spaghetti and meatballs.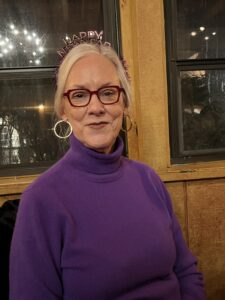 For a variety of reasons, last week was the first 52nd week in 21 years that Fred and I spent at the cabin alone: no dog, children, or grandchildren. We missed them very much, but found new ways to enjoy our time there. We slept late every day, and Fred did some much-needed repairs while I read my 59th book of the year. We enjoyed having lunch with old friends and dinner at our favorite restaurants. Our New Year's Eve dinner at Wolfgang's was special, with party hats and paper horns and a delicious four-course meal.
I also recorded my last two dreams of the year—#5559 and #5560—but I don't feel the need to reread and summarize them all anymore. I still write new blog posts when I have something to say, and sometimes I update old posts like this one, but my compulsion to write a new one every week, let alone two—which was pretty much an obsession for the first seven years—is gone!  Now I post them to stay in touch with my dear old and new friends here. I haven't started to write a new book but my hunger to enjoy the works of others for a change has been insatiable after so many years of intense writing and producing with little time leftover. Other than that, I just want to be: to stay present with the moment, listen to my body, feelings and needs, follow my instincts, and enjoy my beloved family.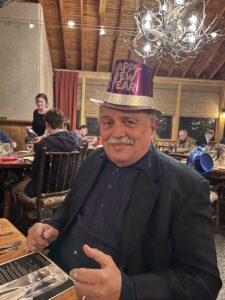 As I approach my 80th year, I want to stay as healthy as possible, but I don't want to fight the inevitable infirmities. I don't want to get back to normal. In the words of Drs. Bud and Massimilla Harris, I want "to have an enlarged life of increased empowerment and authenticity, to free [myself] from the complexes that have been sapping [my] energy like remoras." Into the Heart of the Feminine, 2015.
Finally, I want to leave a legacy to my family of how to age gracefully and with dignity while I savor the blessings of my life. Believe me, I've had more than my share. Whatever the New Year may bring, I welcome it with open arms.
May 2023 bring renewed awareness and gratitude for each loving relationship and moment of your one precious life. Happy New Year!
Jean Raffa's The Bridge to Wholeness and Dream Theatres of the Soul are at Amazon. Healing the Sacred Divide can be found at Amazon and Larson Publications, Inc. Jean's new Nautilus Award-winning The Soul's Twins, is at Amazon and Schiffer's Red Feather Mind, Body, Spirit. Subscribe to her newsletter at www.jeanbenedictraffa.com.