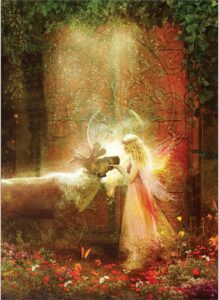 Imagine our surprise when, on a trip to Indochina several years ago, our group of travelers arrived in Saigon to find it decorated for Christmas! Outside a major department store, workers were carving thick slabs of styrofoam into mounds of look-alike snow beneath the window displays. Our hotel lobby held a giant blue Christmas tree and a life-sized Santa Claus who swiveled his hips while singing "Rockin' Around the Christmas Tree." When I asked our guide why a mostly Buddhist country celebrates Christmas in such a big way, he replied, "Christmas is universal now. It's all about shopping."
That's pretty much what it's about for many Westerners too, along with decorating our homes, reuniting with family, preparing special foods, and exchanging gifts. Of course, this can be deeply comforting and pleasurable for some of us, but I often wonder how many of us actually experience the underlying meaning of Christmas.
The story takes place in a stable filled with animals at the Winter Solstice, the darkest time of year. A stable is a shelter for instinctual animals. Psychologically, darkness refers to the undifferentiated chaos in which we all begin our lives. In humanity's mad, egocentric rush toward refined knowledge and complete control over matter, we have lost our connection with instinct, soul, and heart. But like every symbol, all the connotations of darkness are not negative. Taschen's The Book of Symbols tells us:
"Yet, what appears to be only absence, emptiness and obscurity may actually point to a luminosity, presence and fullness of being  peculiar to darkness' domain.  Is it not, after all, alive and stirring?" p. 102

I'm getting the spirit in the dark

I'm getting the spirit in the dark

People moving, aw, ain't we grooving?

Just getting the spirit in the dark.

~Aretha Franklin, Spirit in the Dark
The plot centers around a virgin who gives birth to a baby in a stable beneath an unusually bright star on a dark night. Virgins and babies symbolize innocence and the abundance of undeveloped possibilities, like the pure state of a soul ready to receive Spirit. If we can be as humble and accepting as virgins and babies in the midst of darkness, it will gradually reveal its concealed treasures, symbolized by the giant star: the spark of awareness of our individual, sacred worth. Marie Von Franz thought of the star as "an image of the soul outside the 'event horizon' of space and time—existing beyond death in a state of unextended intensity…" Taschen, p. 20
Birth represents new life with its potential for maturing into an enlarged life of meaning, increased empowerment, and wholeness. And is there significance in the fact that the baby is a boy? Yes. Mary, like the Hindu goddess Durga, represents the protective mother of the universe, the source of all energy. Jesus represents the awakening of a new masculine form of enspirited life that had emerged from the primal darkness of the maternal matrix. From Soul's perspective, the significance of Jesus is that 2,022 years ago he introduced our hope for a meaningful union with the Spirit that dwells within us.
You darkness, that I come from,

I love you more than all the fires

that fence in the world . . .

~Ranier Maria Rilke, You, Darkness
At the end of the story, three—the number of forward movement that overcomes duality—kings (the masculine principle, sovereignty, and worldly power) arrive after a long and arduous trek from the Far East. Guided by the star—stars are attributes of all Queens of Heaven and also represent the highest attainment, the presence of divinity, hope and light—they bring rare and precious gifts for the baby. The kings symbolize the hard work of individuation and the religious outlook of unified consciousness, a way of being that sees the sacredness in everything and reveres every form of life down to the smallest and seemingly least significant.
Yet light, too, has a shadow side in the psychology of humanity, for as the fourth century Christian writer, Gregory of Nyssa, realized,
". . . it is only after one has quenched the brilliant light of the reasoning mind that one may enter most immediately into the presence and knowledge of god: " Moses' vision of God began with light, afterwards God spoke to him in a cloud. But when Moses rose higher and became more perfect, he saw god in the darkness." Taschen, 102.
Dark and light, unconscious and conscious, soul and spirit, Buddhism, Hinduism, Judaism, Islam, Christianity. . . . no words or creeds hold all the answers to life's sacred mysteries. When self-righteously viewed as the ultimate good, they deny the alchemical God Mercury's unifying nature which defies all categories and crosses all borders, whether between heaven, earth, and the underworld, or between individuals.
Like myths of every religion, the Christmas story does not hinge on external fact, but on psychological reality. Christ mass celebrates a momentous evolutionary leap forward in human consciousness from an emphasis on self-preservation into an advanced self-awareness based on self-preservation joined with species-preservation, that is capable of authentic being, living, and loving. The hidden meaning of Christmas is that you and I can experience a rebirth into Christ-awareness of ourselves and each other.
May your respect for Nature's miraculous world of matter, your gratitude for the miracle of your life, and the love in your heart be quickened during this blessed holiday season. Merry Christmas.
Jean Raffa's The Bridge to Wholeness and Dream Theatres of the Soul are at Amazon. Healing the Sacred Divide can be found at Amazon and Larson Publications, Inc. Jean's new Nautilus Award-winning The Soul's Twins, is at Amazon and Schiffer's Red Feather Mind, Body, Spirit. Subscribe to her newsletter at www.jeanbenedictraffa.com.