"…the hermaphrodite has gradually turned into a subduer of conflicts and a bringer of healing, ….its power to unite opposites mediates between the unconscious substratum and the conscious mind. It throws a bridge between present-day consciousness, always in danger of losing its roots, and the natural, unconscious, instinctive wholeness of primeval times." ~ Carl Jung; CV 91, para. 292-4.
A friend who's just finished the chapter on the Sage archetype in The Soul's Twins wrote wondering if the Third Force unitive level of reflection that I write about might be what he calls "in-betweening". I'm not really clear what he means by that term, but told him he might find his answer in Chapter 11, in which I describe what I call Third Force archetypes.
The Third Force is a form of metacognition in which you are aware of your thought processes and choose to transcend dualistic, either/or thinking. You make a conscious effort to acknowledge the value of both sides of every conflict and every pair of opposites.
Here's an example. As I wrote in my first post of this series, our brains know two languages. Dr. Ian McGilchrist has conducted extensive research into the brain's hemispheric specialties and discovered that the left hemisphere is obsessed with data and sorting things into objective, provable categories, whereas the right hemisphere is the self-aware, imaginative, subjective part of our brains which understands relationships and context. Separately, each has limits, but individuals who use both can make brilliant inroads into the mystery of themselves. Albert Einstein was one such person. He said, "Logic will take you from A to B.  Imagination will take you everywhere."
Jung identified a psychological counterpart to the specialties of our brain hemispheres in his use of the terms Eros (which he thought of as the feminine principle), and Logos, (the masculine principle)
"Eros is an interweaving; logos is the capacity for differentiation, clarifying light; eros is relatedness; logos is discrimination and detachment." ~ C. G. Jung, The Secret of the Golden Flower, p. 117
These modes of thinking are instinctual and archetypal. Throughout history we've named and personified them in myths, fairy tales, and other stories. Logos can be imagined as a Sage who processes information by accumulating factual information, and discriminates between details with objective reason and logic. Your Sage focuses on the surface facts and dismisses anything that can't be proven with the scientific method.
Eros can be imagined as a Mediatrix who personifies the processes of the right hemisphere of your brain: she   interweaves information from the outer world with personal associations, feeling values, emotions, intuitions, and images that are meaningful to you. She looks for the metaphoric meaning and resonance you feel beneath the surface of dreams, stories, events, and appearances. She sees and feels the hidden messages people unconsciously send to each other.
Most people do both every day because we all have both sides to our brain that constantly interact through the corpus callossum to process the information we receive. The rub is that our culture teaches and focuses almost exclusively on logos. It's generally assumed that feelings and personal resonance are completely irrelevant.
They're not, of course. But many, if not most of us, ignore our inner life and fail to pursue the kind of work that would consciously connect both ways. When we think dualistically, i.e. I am this thing, not that thing, it's like living on one island and burning a bridge to the equally desirable island nearby. When we use the Third Force, we build a sturdy Bridge to Wholeness which dramatically improves our relationship with the world. This is what I think of as "in-betweening": a way of Healing the Sacred Divide.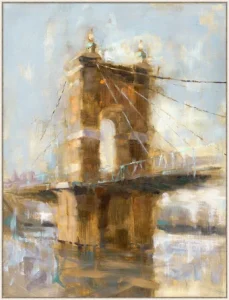 In The Soul's Twins, I describe four archetypes pairs and one united pair which, when fully integrated into our conscious awareness by our ongoing use of Third Force thinking represent our fullest, whole Self. From antiquity this archetype has often been imagined as a Divine hermaphrodite composed of equal parts of the feminine and masculine principles: the ultimate image of creativity. The Yin/Yang symbol of Taoism as two intertwined entities contained in one circle—a symbol of wholeness—is another example.
Third Force thinking revitalizes us, expands our personalities, brings spiritual meaning to our lives, and leads to individuation, relatedness, and wholeness. It is never-ending because we can never integrate the entirety of the unconscious any more than scientists can know everything about the universe. There's always more to learn, more our souls want to express.
When do you use Third-Force Thinking? ?
Image credits: Bridge Rendition 2, by Windover Art Group.
Paper and E-book versions of The Bridge to Wholeness and Dream Theatres of the Soul are at Amazon. The Wilbur Award-winning Healing the Sacred Divide can be found at Amazon and Larson Publications.com. Jean's new Nautilus Award-winning The Soul's Twins, is at Amazon and Schiffer's Red Feather Mind, Body, Spirit. Subscribe to her newsletter at www.jeanbenedictraffa.com.