A golden bear in my collection of bear symbols.

"There comes a time in your life when the life you have been living is over and you have no clue who you are becoming."~ Marion Woodman

"Bears are magical woodland creatures, linked to ancient healings, spiritual power, intuitive sight, and harmony in nature. Throughout history and mythical folklore, bears play a vital role in the larger link between humans and the collective world in which we live. The appearance of a bear in your life can help you learn deep spiritual lessons, or open up to a new primal part of yourself. So, what does it mean if you have a bear encounter? And what is their deeper spiritual or symbolic meaning?" ~Rose Putnam, https://crystalclearintuition.com/bear-meaning/
This morning I was in my favorite rocking chair on the porch of our cabin in the Smoky Mountains. My breakfast smoothie was on the table beside me and Joy Harjo's new memoir, Poet Warrior, was in my lap. The air was cool and fresh. A gentle breeze played with my hair and tickled my face as I read. At page 165 I caught a dark flicker of movement out of the corner of my left eye. I lifted my head and there, maybe 25 yards away, a huge black bear was casually strolling along the driveway directly in front of me.
"If you see a bear or have synchronistic sightings of bears (as visions, dreams, or in imagery), there may be a deeper spiritual message that is being communicated to you. Bears have been linked to ancestral teachers or shamanic healers, so a bear showing up in your life may not be a coincidence. After all, bears teach us that everything around is all connected." ~Rose Putnam
Page 165 is in the midst of a section of the book about Harjo's many synchronistic experiences with snakes in her dreams and waking life. She sees these animal visitations as messages about what we can learn "from the underneath of human consciousness". So do I.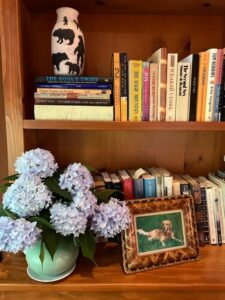 I began collecting images of bears around 32 years ago when I was studying Jungian psychology and writing my first book The Bridge to Wholeness. Chapter 13 is called "Following the Golden Bear". It's about trusting the guidance of my spiritual and instinctual inclinations instead of staying stuck in convention.
Bear encounters are common in this area of the Smokies and our cabin is filled with images of them. Just last year I dreamed of a black bear walking on our cabin porch where his mate joined him. But the closest I've come to an encounter with a live black bear on our property was a Nest camera photograph taken at 1:00 in the morning of a bear walking up our porch steps to raid the bird feeders. Fortunately, Izzy was with me and her fierce, booming bark scared it away.
"In spiritual language, the house or the yard is associated with your physical space, survival energy, and your root/1st chakra…Similarly to the energy of a house, the energy of a bear is linked to this primal, 1st/root chakra energy center. There is a very mothering, nurturing, and protective energy that a bear has…So, if you see a bear near your house or in your yard, the spiritual messages relate to the energy in your survival center and primal energetic force…It is a positive sign of protection, and that the area which you have created is a sacred space. Bears are sensitive to the space around the home and do not venture where they sense danger or imbalanced primal energy…A bear near the home could be an answer to deeper spiritual questions that you are seeking. If you are feeling stuck, stagnant, or wish to live in alignment with a deeper spiritual purpose, a bear near your home may be guiding you towards your next steps." ~Rose Putnam
I want to live in alignment with my spiritual purpose and I've asked for help from a Jungian analyst. Earlier this week we had an emotionally intense session about traumatic childhood wounds that still influence my outer and inner life. Allowing my fear, betrayal, and loss to rise to the surface was painful. But the insight and emotional relief I experienced afterwards, combined with today's synchronistic visit from a bear, make it well worth it. I believe this mysterious bear's message was that bringing my survival center into balance is the right direction for me.
"Hibernation is an important part of the bear's sensitivity and adaptability to cycles of the seasons, the physical body, and the earth. Many people who connect with the energy of the bear cycle between seasons of reclusiveness and introspection, and seasons of native growth, exploration, and action. A bear may show up in your life to teach about honoring these cycles and to learn to flow with them instead of resisting them. This may be a season for you to rest, meditate, and learn about yourself. Do not feel bad if you have to set a project aside to let this period of introspection incubate seeds that have been planted." ~Rose Putnam
I've understood that honoring this cycle is necessary. I've experienced times like this before and they've always been restorative.  But intellect, theories, and producing have not healed my inner child's fear and false guilt. Worst of all, my connection to Spirit has weakened.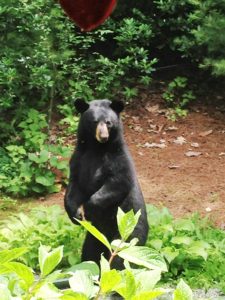 At our first session, my analyst told me that our work would be about connecting my mind with my emotions. Today I feel my primal energy strengthening and my spirit soaring. Following bear and Jungian psychology have been the right choices for me.
Paper and E-book versions of The Bridge to Wholeness and Dream Theatres of the Soul are at Amazon. The Wilbur Award-winning Healing the Sacred Divide can be found at Amazon and Larson Publications.com. Jean's new Nautilus Award-winning The Soul's Twins, is at Amazon and Schiffer's Red Feather Mind, Body, Spirit. Subscribe to her newsletter at www.jeanbenedictraffa.com.