Starseed Lightwalker

Everything young grows old, all beauty fades, all heat cools, all brightness dims, and every truth becomes stale and trite. For all these things have taken on shape, and all shapes are worn thin by the working of time; they age, sicken, crumble to dust—unless they change.

But change they can, for the invisible spark that generated them is potent enough for infinite generation. No one should deny the danger of the descent, but it can be risked. No one need risk it, but it is certain that someone will. And let those who go down the sunset way do so with open eyes, for it is a sacrifice which daunts even the gods.

Yet every descent is followed by an ascent; the vanishing shapes are shaped anew, and a truth is valid in the end only if it suffers change and bears new witness in new images, in new tongues, like a new wine that is put into new bottles. ~Carl Jung, CW 5, Para 553
Years of dreamwork have taught me that whenever my inner life and outer circumstances shift, the changes elicit discomfort, self-doubt, and worry, and Dream Mother always sends help. My current phase is related to my health and aging. Here's Dream Mother's latest rescue mission:
#5365
August 13
H (a man who keeps our North Carolina property in shape) is at our house with some friends and family. They're having a celebratory party. I wonder what the occasion is. I bring out a bowl of hummus for them to snack on.
There are two large and colorful oriental rugs on the floor, the bottom one bigger than the top one, with several smaller ones piled on top. I realize they will make it hard for people to walk or dance around. As soon as I notice this, H somehow knows I want them gone and begins to remove all but the bottom two.
In an adjoining room I see a beautiful blonde lady, tall, slender, and elegant in a white sheath dress, standing alone in a doorway, looking around with a warm smile. I know her and am so happy to see her here, although I feel reluctant to rush over and greet her. She seems almost unapproachable in her serene solitude, and I don't want to embarrass myself or her by intruding. I hear the others calling out to let each other know she's here. Everyone is excited and happy about something.
#5366
August 16
I'm consulting with a woman doctor who will cure a child I love. I'm afraid she may be terminally ill. The doctor is beautiful in a simple black dress, with dark hair pulled back into a bun, and a quietly confident manner. I'm impressed by her, in awe of her, as she calmly assures me the operation will be successful. I want to believe her but I'm afraid. What if it isn't?
I see three figures, one in front of the other. The doctor's in the back. In front of her there's a vague outline of another woman…me? In front of her I sense a smaller feminine presence…the little girl?
With a flash of lucidity I realize that this has happened before and the outcome was positive. Is this a replay of a memory or an old dream? Whatever it is, I think I can trust the doctor.
We're in a hospital waiting room. I wonder when the Dr. will leave and begin the surgery. I look out a window and see Izzy — the patient — enclosed in a small balcony attached to the side of this building. She's been left alone out in the sun to wait until they come for her. I hope it's not too hot out there. I hope the railing is high enough that she won't fall off. Surely they wouldn't put her out there if it wasn't safe?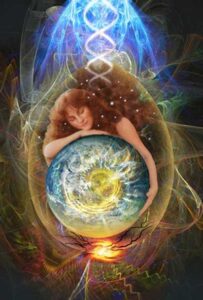 Associations:
I associate Izzy (my son's golden retriever who lives with us in the summer) with my instinct for nurturance. I love her and want to protect her. Has she had enough to eat? Does she need to go out? Is she getting enough exercise? Is she in pain? Does she miss her family? Have I given her enough love?  She's the patient, and there's a mothering doctor part of me who knows how to help her and assures my dream ego that she'll be alright.
Is my flash of awareness that this has happened before a reference to Bear (Izzy's predecessor) with whom I spent the last summers of his life and for whom I felt the same love and concern? I don't think the doctor's assurance is just about Izzy. It's also about me trusting my own instinct for nurturance, symbolized by the doctor and Izzy, and the soul-healing power of the Mother's love to bring about a successful physical, psychological, and spiritual outcome in my own life, whatever the future may bring.
How interesting that dream #5365 features a mysterious blonde lady in a white (albedo) dress who I admire from afar, and dream #5366 a dark-haired lady doctor in a black (nigredo) dress who I trust. I see these opposites as images of Great Mother/Sophia, two aspects of feminine spirit in matter. Perhaps the light Mother governs the healing of my soul, and the more approachable dark earthy Mother, the healing of all physical life.
It comforts me to think so. Thank you, Dream Mother, for these new images, these new tongues, this new wine.
Image credits: Pinterest
Paper and E-book versions of The Bridge to Wholeness and Dream Theatres of the Soul are at Amazon. The Wilbur Award-winning Healing the Sacred Divide can be found at Amazon and Larson Publications.com. Jean's new Nautilus Award-winning The Soul's Twins, is at Amazon and Schiffer's Red Feather Mind, Body, Spirit. Subscribe to her newsletter at www.jeanbenedictraffa.com.