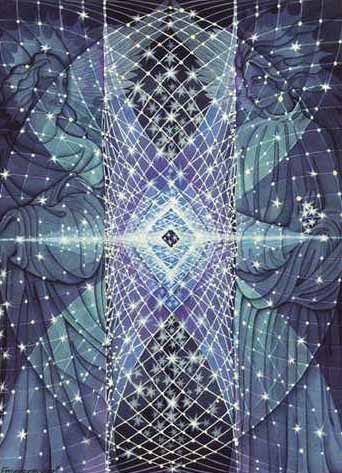 Dream #5363:  August 6, 2021
I'm in a room with several young people. I walk past my granddaughter Sophia. She's standing in front of a young blonde-haired man who's sitting on a couch to my right. He hands her a small round canister, like the kind Kodak film used to be rolled up in. She pulls out something written on paper, reads it, then says, "Aw, no, I'm really sorry…"  I don't hear the rest, but he's obviously crushed. I imagine he's asked her to the prom and she can't, or doesn't want to go. She's being gracious and kind, trying to let him down easily, and I'm impressed by her compassion for his feelings. They have obviously liked each other for a while. I wonder what's going on.
I realize this is a classroom and these young people are students. An Asian boy shows me a paper filled with handwritten mathematical calculations and says, "Can you help me with this?" It's some kind of higher math. I say, "Oh no, I don't know anything about this." I feel guilty, as if I should know. He persists, "But could you just show me how to score this?"  I look at the figures and have no idea what they mean. I say, "I'm so sorry.  I really don't know."  He walks away disappointed.
Sophia is their teacher. She's still talking to the boy/man, trying to console him. The students are all chilling, talking, waiting for her. I want to help her by taking over the class until she can start. I ask a girl what the subject is. She says, "Food." I say laughing, "Oh no, I don't know anything about that. You'll have to wait for her." The girl and her friends smile good-naturedly.
I sit on a couch and Sophia comes to me. She wants to talk: "I don't know what to do. I think I just broke up with my boyfriend. I really like him but there's this other guy. He's so cool….."  With tears in her eyes she tries to explain while fiddling with her hair, looking very sad, and obviously feeling awful. I'm touched that she wants to talk to me and hope I can think of something to say that will make her feel better.
The scene changes. Now I'm outside in a courtyard behind the classroom and she's inside teaching. I look up into the night sky and stare in amazement at the most bizarre phenomenon I've ever seen. Above and in front of me, the air over the courtyard is filled with sparkling gold strings of glittering lights arranged in all sorts of formations that reach so high into the sky that I can't see where they end. Some look like slender beaded necklaces. Others have clusters at the bottom that look like huge glittering chandeliers. I'm stunned, in awe.
I rush into the classroom to get my cell phone. I call out to Sophia to come out and see this. Everyone comes out looking equally amazed. They start taking pictures with their cell phones. I frantically try to turn on my cell phone camera. Students run around taking pictures. I worry that the clusters are hanging lower and changing configurations and I want to get some good pictures before they melt or disappear.
Associations:
Sophia:  My lovely, caring, scrupulous granddaughter who represents a youthful part of me.
The boy she's rejecting: A sweet, yearning writer Animus part of me who no longer elicits passion in/from Sophia/me.
The Asian boy:  An unconscious (because from another country) aspect of my writer animus who has difficulty with the logical, linear language of math, and wants my help. I have the same problem so can't help him. I feel guilty about letting him down but I don't know how to do this. 
This reminds me of what I'm learning about myself from my online presentations about The Partnership Profile. Parts of it are difficult to explain because they require the kind of left-hemisphere cognition that's difficult for me. In the past, my shadow Sage would have felt embarrassed or defensive about this weakness. This dream says I feel some guilt, but that's all.
As I readily admit in the next scene, it's the same with food. I enjoy it, occasionally feel like cooking or baking something special, but mostly I'm not interested. I've stressed over cooking for most of my adult life and don't want that any more. 
Sophia/Me feels remorse about the loss of libido for my writer animus, symbolized by her boyfriend and the Asian boy. Lately, I've been feeling the same way about my writing. Maybe this is just a temporary thing, but whatever it is, my dream says I'm accepting it.
The lysis of the dream — that extraordinary numinous luminosity — is my reward for heeding the messages I'm getting from my unconscious this summer. Something in me is shifting and I'm struggling with it. I'm slowing down, have less desire to write about anything but my dreams, feel guilty about considering leaving teaching to someone else. But I just want to read, relax, enjoy nature and the rest of my life. I'm in that difficult, but infinitely fruitful middle mandorla place of dialogue between the old me and an unknown new me that needs to be heard. 
These are my burning questions right now: Who is this special new guy that Sophia/I feel so attracted to?  What gifts might he bring in the time to come? I'm just about ready to accept him/them.
What aging issues demand your attention? May you find your answers in the fruitful in-between.
Paper and E-book versions of The Bridge to Wholeness and Dream Theatres of the Soul are at Amazon. The Wilbur Award-winning Healing the Sacred Divide can be found at Amazon and Larson Publications.com. Jean's new Nautilus Award-winning The Soul's Twins, is at Amazon and Schiffer's Red Feather Mind, Body, Spirit. Subscribe to her newsletter at www.jeanbenedictraffa.com.