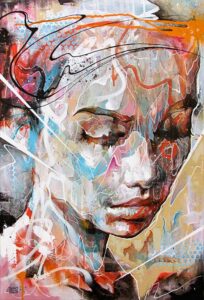 It's beautiful, cool, and refreshing in the Smokies. We've had a lot of company and I've enjoyed it. But I'm feeling tired these days. I caught a cold from one of our visitors and spent most of Monday and Tuesday in bed. That's why I didn't write a post last week. For the first time in over eleven years, I simply forgot. When I took Izzy out for a walk on Tuesday I leaned heavily on a sturdy walking stick, laboring every step of the way like a very old lady. I haven't felt that badly in years. Physically or mentally. I'm mostly over it now, but still…I'm tired.
It's got me thinking about my age, and, of course, the inevitable outcome of my aging.  Probably some of the tiredness is a mild form of depression. I'm working less, stressing less, have fewer challenges and less adrenaline surging through my body, all of which leaves me more down time to reflect on my life. In my case, that's not necessarily a good thing.
Sometimes I fantasize that when my time on Earth is done my soul will return to its source. I'll be met there by my wise mentors from the Cosmic Wisdom School who will say, "Well done, oh good and faithful student. It's time to rest from your labors. Let us know when you're ready, and we'll start planning your next assignment."
But I wonder. Would my imaginary teachers really be proud of me? Have I truly fulfilled my assignment this time around? What was I supposed to learn? Have I learned it? What was I supposed to do? Have I done it? I've loved writing with a passion. I'm proud of my blog and books. But I'm more than the me I share with the world. The me inside occasionally thinks I've done a pretty good job of fulfilling a lot of my potential. But mostly it's riddled with self-doubt. Self-criticism. Cluelessness.
Was self-knowledge my assignment?  I've worked hard on that, but I still know so little about myself. Or I should say my selves? One part of me thinks this. Another part, that. Usually I straddle the boundaries between this and that, never knowing which I'll choose next. Until part of me chooses. Then I question the choice. Didn't I choose the opposite way just last week?
What about love? I've worked very hard on that too. I always thought I'd get there one day. But right now I feel like I'm nowhere. Just here. Still seeing the ignoble motivations behind the benevolent actions. Still struggling to know how to love. Still waiting for compassion to flow naturally, unreservedly, both for myself and others. If learning to love was my assignment this time around, I hope I still have several years left because I'm nowhere near that goal post. Simply noticing my shadow's impulses, thoughts, and feelings over the last two hours proves how miserably I've failed in that endeavor.
Selflessness?  Ha! Just writing the word brings flashes of memories of my shadow's self-centeredness.
Maybe I was supposed to learn guilt. If that was my assignment, I can happily say I've succeeded. Of what am I guilty? So many things I've said without realizing the impact my words could have on others until it was too late. So many things I've not said for fear of being misunderstood or judged, or of annoying someone, or of revealing my unworthiness.
Why unworthy? I don't know. It's just part of the mystery of my personality. I haven't suffered one one-hundredth of the emotional and physical trauma so many others have. Compared to their unspeakable pain, the unimaginable misery of their lives, mine has been a vacation. A walk in the park. A free pass to Disney World. And yet I suffer. I act and think in ways I don't like. I'm full of paradoxes. Most of the time It's difficult to feel comfortable being me. I still see so much I don't like, and I don't even know who me is.
Please don't worry. The part of me that's feeling tired and discouraged right now could disappear tomorrow and a confident, serene, peaceful part could arise to take its place. Or maybe it will be an enthusiastic part. I'm all these parts and many more, and honestly, I'm okay with that. For me it's a way of life. And I love my life. Beneath it all lies a rock solid foundation of something I can't quite name that knows without a doubt that, in the words of Mother Julian of Norwich, "All shall be well, and all shall be well, and all manner of thing shall be well." Maybe this is all I was supposed to learn this time around.
When I checked my Facebook page a few hours ago, I found this reassuring quote posted on the Carl Jung Depth Psychology site:
"I observe myself in the stillness of Bollingen and with all my experience of nearly eight decades must admit that I have found no rounded answer to myself. I am just as much in doubt of myself as before, the more so I try to say something definite. It is as though familiarity with oneself alienated one from oneself still further." ~C.G. Jung, Letters, Vol. II, Pages 162-163.
He sounded tired too.
I wonder what my assignment will be next time around.
Note: Lewis Lafontaine just alerted me to another quote from Jung about his discouragement near the end of his life. It's from his memoir, Memories, Dreams, Reflections on page 355, in a chapter called "Retrospect." I don't have my copy with me. If anyone else does, maybe you could send me the quote in a comment! That would be lovely.
Image credit:  Pinterest. Drenched in Reflection, Artist Danny O'Connor
Jean Raffa's The Bridge to Wholeness and Dream Theatres of the Soul are at Amazon. E-book versions are also at Kobo, Barnes And Noble and Smashwords. Her Wilbur Award-winning book, Healing the Sacred Divide can be found at Amazon and Larson Publications.com. Her new Nautilus Award-winning book, The Soul's Twins, is at Schiffer's Red Feather Mind, Body, Spirit and wherever books are sold. Subscribe to her newsletter at www.jeanbenedictraffa.com.