"There is something about the outside of a horse that is good for the inside of a man. [Or a woman]." ~Winston Churchill
"Would you be able to take Sophia to the stable now?"
I consider how to respond to my daughter's text. It's 3:00 on Monday, the day I write my blog posts for Tuesday publication, and I haven't started one for tomorrow yet. Driving Sophia to the stable usually takes at least three hours out of my day, and with the traffic picking up again, it could take four.
"Do it," Fred says. "You know how much you love it. Don't worry about dinner. I'll fix it."
On the way to her house I try to come up with a topic for this blog. Then it hits me. Maybe I can interview Sophia on the way to the stable and write tomorrow's post about it.
She immediately agrees. She hits the "voice memo" app on my cell phone and we talk all the way to the stable. Some snippets from our conversation:
Me: "So what is it about being with Harvey that you enjoy so much?"
"Well, usually I'm very much in my head cycling through all the things I have to do. I'm having a conversation with someone in the back of my head thinking, 'I have a test tomorrow. I need to study.'  But when I'm at the barn I'm grooming my horse, or riding my horse, or playing with him, or sitting on the ground in his paddock looking at him, and all those thoughts go away."
"It takes you out of your head. It's a way to escape the stresses of your everyday life. You're just present in the moment. You're emotionally involved in your relationship with him too, aren't you?"
"Yes. Of course. He's like my everything!  He will never do anything wrong to the point where I'll be mad at him, because he's an animal, a horse. I'll be in the barn and he's trying to kick me and I'm like, 'Dude. What are you doing?' I'm pissed in the moment, but I'm like, 'He's not a human. It's not malicious. Let me appreciate the time I have here and let him be what he is.'"
"Instinct, right?"
"Yes."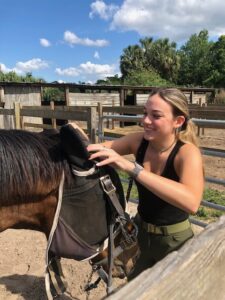 "I've never understood why I was horse crazy as a girl, but as I reflect on my life, I realize my mother worked all the time and I missed her. I consider what mothers do. They pick up their child. They carry them around. This big, warm, physical…"
"Comforting."
"Yes. And, they're so powerful, and yet you have control over them. Is there anything like that for you?"
"Yeah. I was never horse crazy like that. But once my second grade teacher asked us to write about, 'What I want to do when I grow up." I couldn't think of anything, but my default option in the back of my mind was, 'Oh, I'll be a horse rider' without it being all that important to me. Now I'm at the barn five or six days a week and it's such a big part of my life that I never expected. I'm always thinking about my horse, watching videos of my horse."
"So, it wasn't a conscious decision. You were following your instincts. Do you think it makes you feel confident and powerful to ride your horse?"
"I would say yes. I mean he almost bucked me off and I didn't fall off, and I felt proud of that. But I would say it's more like an emotional connection. A horse could literally not give a shit about us but we give horses a personality and imagine that they totally love us and are so excited to see us. We're building them a whole life that they don't know about!"
"(Laughing). It's called projection!  We project all these feelings and emotions onto them, but really it's us that needs to believe that's what they are."
"Yes! They could be rolling their eyes when I get there, thinking, 'Why does she want to ride me right now?'  And I'm like, 'Oh, you're so excited to see me! You love me! You can't wait to ride,' and they're like, 'Please, could you just bring me some hay?'"
"(Laughing). Yeah, you need a focus for your projections. You need something to love, to believe loves you. I was like that. I had a very real imaginary life where I would have a horse living in the backyard and he would always love me."
"When I was looking for a horse to buy I'd be falling asleep and think, 'I want to dream about a horse.'  I would imagine owning a horse and all the things I'm going to teach it to do…and then I got Harvey and I did those things."
"Can you think of anything about horses that has helped you, strengthened you in any way? Or is it just emotionally comforting?"
"Well, it's a lot about the emotional things, but it's also physical. I'm stronger and much more observant at the barn now, more aware of my surroundings, even though I'm not that way at home. It's also taught me responsibility. It's made me grow up in a sense. I need to be out there because he has a schedule, and I need to ride him or at least get him ridden. It's like, 'This is yours now, and it's your responsibility.' I take care of almost everything. I schedule the farrier, I schedule the vet, I tell my Mom that this bill needs to be paid. I bought him with my money. Now I need to be responsible for my choice."
Me, awed: "That. Is. Fabulous! It's a huge, huge factor in maturing. I love that."
"Yes, and now I want to do something with horses for as long as I can. It's a necessity. If I stop coming here, [we're at the stable now] then I'm missing something important out of my life."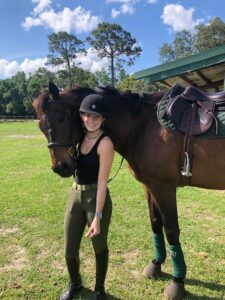 "I'm so glad you've found something that does that for you."
What is that 'something' about a horse? Entering the present moment. Becoming aware of your body, emotions, and projections. Integrating the instinctual and imaginary aspects of your life. Accepting personal responsibility. I'd say that's something for a fifteen-year old girl to be learning.
Thank you for helping me write this post, Sophia.
"According to Jung, the animal is sublime and, in fact, represents the 'divine' side of the human psyche.  He believed that animals live much more in contact with a 'secret' order in nature itself and–far more than human beings–live in close contact with 'absolute knowledge' of the unconscious." ~Barbara Hannah
Jean Raffa's The Bridge to Wholeness and Dream Theatres of the Soul are at Amazon. E-book versions are also at Kobo, Barnes And Noble and Smashwords. Healing the Sacred Divide can be found at Amazon and Larson Publications.com. Her new book, The Soul's Twins, is available at Schiffer, Red Feather Mind, Body, Spirit and wherever books are sold. Subscribe to her newsletter at www.jeanbenedictraffa.com.