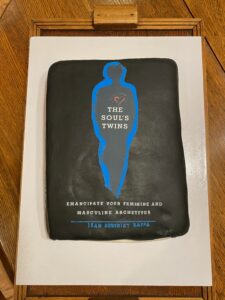 A very big thank-you to those who attended the virtual Zoom book launch for The Soul's Twins last night. It was wonderful to see so many familiar names and faces of people who wanted to know about my newest book. More about that in a minute. But first, an update about your Amazon orders.
Yesterday I wrote about the messages some of you were receiving from Amazon in regard to your orders for The Soul's Twins. Some of you were told you had to approve the order before Amazon would send you the book. Others were told they'd let you know as soon as they had a delivery date. Still others said you might not get your books until late December. What the heck was going on?
I asked my marketing contact at Schiffer. Here's the message I received yesterday afternoon:
"Hi Jeanie,

We have been having some issues with Amazon recently and the way their messaging is appearing. But, rest assured, I just checked and they placed an order on 11/13 to restock copies. They have stock      responses that they use on their website that are automated. So even though they have placed an order, the automated message still hasn't changed yet. They should have plenty in stock to fulfill the orders hopefully by early next week. This should take care of anyone that has already placed an order since they will be in stock a month before the 12/17 date to verify shipment.

Sorry for the inconvenience!"
Huge sigh of relief. You will receive the books you ordered soon. If you have offered to write a review of The Soul's Twins on Amazon within the first few weeks of its release, please know that I understand you'll post your review as soon as you can.  As of last night, two people who read electronic advance review copies have already posted reviews. You can see them here. Another very big thank-you to them for their wholehearted endorsements!
Now, on to last night's Zoom and Facebook Live launch.  Here's part of a note I received from a dear friend afterwards. It says it all:
"…Everyone experiences problems with large Zoom groups, don't even give a second thought to the little bit that went wrong today on the Zoom. There is a running joke about Zoom that some put into a meme:

"Zoom is like being at a Seance: 'Betty, are you with us? Can you see or hear us? Give us a sign if you are present.'

Haha. You know, Murphy's Law. But your event was lovely today. I enjoyed every minute of it."
Thank you for the laugh Jenna! Yes, indeed! We had more glitches last night. Something happened to my computer speaker and my assistant couldn't get the sound to work. Meanwhile, everyone who arrived at five o'clock sat around in the waiting room for fifteen minutes before we got it working. And most of you were still there. Thank you. To anyone who left because they thought they must have gotten the date wrong, or for any other reason, please accept my apologies.
But was the worst over?  Not by a long shot. First, the trailer sound wasn't in sync with the visuals. Then my ear buds died. So I didn't hear Skip's toast to me and the book. What did you say, Skip?
Luckily, my assistant had brought her ear buds and gave them to me so I could finish the program. And through all this, all you lovely, lovely, people waited patiently and had nothing but kind words afterwards.
In Jungian psychology and elsewhere, much respect is given to an archetype called the Trickster. Trickster — known as Coyote in some Native People's mythologies, Anansi the spider in Ghana, Curupira, a Brazilian jungle genie, and Br'er Rabbit of African American slave origin — is, like every other archetype, a powerful universal force. It always wants to be invited to the party. It loves to mess with our plans to remind us that we really don't have everything under control. Many factors contributed to yesterday's glitches, of course, but Trickster was undoubtedly involved in the Amazon issue and last nights' sound problems.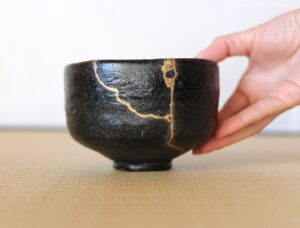 Our egos are extremely vulnerable to what Jungians call "inflation." When things go well, we tend to get full of ourselves. We get big heads. If we're not brought down to earth, we can do some serious damage, another lesson we in the U.S. have learned from the recent election! Life loves equilibrium. We're meant to be tested and humbled. It's good for us. It helps us grow stronger and keeps us where we belong:  out of the realm of archetypes and gods, and firmly grounded in the realm of flawed, real, imperfect human beings.
After the launch a friend sent me an image similar to this one. It's an example of kintsugi, the Japanese art of embracing flaws and imperfections, repairing broken pottery with gold to create precious scars, an even stronger, more beautiful piece of art.
Oh, and the champagne and book cake were delicious.