"Religion is supposed to teach us the way of love. Jesus even commanded it. Though I'm not sure that you really can order or demand love, it's so all-important that the great spiritual teachers always do, saying with urgency, as it were, "You've got to love or you'll never find your soul's purpose. You'll never find the deepest meaning of life itself." Philosophically, you will never discover the Logos, the blueprint, the pattern, the template of all reality, what Jung would have called 'the soul of the world.'" ~Richard Rohr, Falling Upward: A Spirituality for the Two Halves of Life
Do the majority of us in the contemporary world understand what love means? Do we feel fulfilled and spiritually satisfied in the depth of our souls? To the point that we've found our soul's purpose? To the point that we can feel love for others whether they love us or not? Most of us don't. I think that's why our world's in such a mess.  Consider how our ideas about love for God and others develop…
An infant's idea of love: If you love me you'll satisfy my instinctual needs.
"Come here right now! Feed me. Hold me close. Touch me gently. Make the hurt and hunger and loud noises go away. Smile at me. Make soothing sounds."
A child's idea of love: If you love me you'll give me what I want.
"No! I won't eat that nasty broccoli. I'll throw up if you make me eat it. I want this toy! Don't take it away from me! I won't lie down.  I don't want to take a nap now. Come back here. Don't leave me alone. Give me what I want and I'll be good. Don't leave me with the baby sitter. I'm afraid. Look under my bed. Did you check the closet? Just one more story and I promise I'll go to sleep. Pleeeeease! Suzy's touching me! Make her stop looking at me! Thank you for that (insert item) I wanted. You're the best mommy/daddy/god in the whole world!"
An adolescent's idea of love: If you love me you'll leave me alone.
"If you loved me you'd take care of me without expecting me to do anything in return. You'd let me do what I want to do. Why don't you understand me? Why don't you trust me?"
A young adult's idea of love: If you love me I'll be happy and feel good about myself forever.
"We were meant for each other. Never change. You'll always make me happy and I'll always make you happy. We are destined to love each other always!"
A middle-aged adult's idea of love: If you loved me I wouldn't feel like something's missing.
"Why am I not happy?  I've done everything I can so our problems must be your fault." (Pick one:) A. "But, I'll stay with you because you're familiar and I'm afraid of the unknown." Or B. "So I'm leaving because I know there's someone out there who will really love me."
A mature adult's idea of love: I need to learn how to love.
"There are things about myself I don't love. If I can learn how to love my true self, maybe I can learn how to love the real you too instead of the person I've wanted you to be. Will you help me? Can we learn to love together?"
"I have treated many hundreds of patients. Among those in the second half of life — that is to say, over 35 — there has not been one whose problem in the last resort was not of finding a religious outlook on life. It is safe to say the every one of them fell ill because he had lost that which the living religions of every age have given their followers, and none of them has really been healed who did not regain his religious outlook." ~C.G. Jung, Modern Man in Search of a Soul
Given the inherent connection between religion and love, mature religion looks exactly like a psychologically mature adult's love. We want God to love us for eternity, but do we really want to love others? That just doesn't come automatically. We have to want to love, not just to be loved. We have to work at learning how to love. See the qualities in ourselves that separate us from love. Choose love over selfishness over and over again. There's no such thing as spiritual maturity without psychological maturity.
"Meaty spirituality must first of all teach us freedom from the self, from my own self as a reference point for everything or anything. This is the necessary Coopernican Revolution wherein we change reference points. Copernicus discovered that Earth is not the center of the universe. Now we have to discover that we are not the center of any universe either. We are not finally a meaningful reference point. Although we do have to start with self at the center to build a necessary 'ego structure,' we then must move beyond it. The big and full world does not circle around me or you. Yet so many refuse to undergo this foundational enlightenment. 'This ultimate reality, the way things work, is quite simply described as love.'" ~Richard Rohr, Falling Upward
I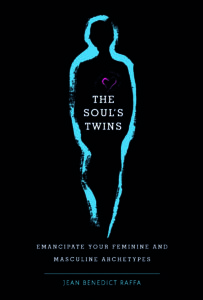 mage credits:  Pinterest, Google Images, Schiffer Publishing
Note: My new book contains a self-assessment tool called The Partnership Profile that can help you learn to love yourself and others. If you'd like to receive a free copy, click here to pre-order The Soul's Twins, then send a copy of your Amazon receipt to jeanraffaauthor@gmail.com and I'll e-mail you a pdf.
Jean Raffa's The Bridge to Wholeness and Dream Theatres of the Soul are at Amazon. E-book versions are also at Kobo, Barnes And Noble and Smashwords. Healing the Sacred Divide can be found at Amazon and Larson Publications.com. Watch for her new book, The Soul's Twins, forthcoming from Schiffer Red Feather Mind Body Spirit. For more information, subscribe to her newsletter at www.jeanbenedictraffa.com.