"Each person is born with an unencumbered spot, free of expectation and regret, free of ambition and embarrassment, free of fear and worry, an umbilical spot of grace where we were each touched by God. It is this spot of grace that issues peace. Psychologists call this spot the Psyche, Theologists call it the Soul, Jung calls it The Seat of the Unconscious, Hindu masters call it the Atman, Buddhists call it the Dharma, Rilke called it Inwardness, Sufis call it Qualb, and Jesus calls it The center of Our Love.

To know this spot of inwardness is to know who we are, not by surface markers of identity, not by where we work or what we wear or how we like to be addressed but by feeling our place in relation to the Infinite and by inhabiting it. This is a hard lifelong task, for the nature of becoming is a constant filming over of where we begin while the nature of being is a constant erosion of what is not essential. We each  live in the midst of this ongoing tension, growing tarnished or covered over only to be worn back to that incorruptible spot of grace at our core." Mark Nepo
Mark Nepo rightly notes that we each live in the midst of an ongoing tension. Part of it is caused by the natural stressors of living in a fast-paced, instant-gratification world, and part is our natural inner compulsion to grow and better ourselves. The reality is, we can't grow without conflict or suffering. The different energies of the north and south poles need to interact to create our earth's magnetic field. You have to contend with the different specialties of your brain's two hemispheres as well as the realities of your inner and outer lives to resolve everyday problems.
Tension motivates change. If we can tolerate the tension of our conflicts long enough without acting rashly, our unconscious can find solutions that will further our growth. But if we ignore our tension too long without addressing it, it can create burnout and physical symptoms.
How do we address our tension? How do we find that magical, unencumbered spot of grace that issues peace? Whether we're aware of it or not, this is a central question around which our lives revolve, but many of us are so distracted by our outer lives that we don't stop long enough to hear the question, let alone try to answer it. To further complicate things, the answers vary from culture to culture and individual to individual. But four principles remain constant.
1. Create some personal alone time to find your center

. This involves more than saying an occasional affirmation or prayer, listening to a weekly sermon, or hearing a few motivational speeches. You'll need to be willing to delay some pursuits which your ego finds instantly gratifying in favor of ones that will bring future rewards which may be a

long

time coming.
2. Try different practices until you find what brings you to a place of love, joy, and peace

. Pay close attention to your inner life, not only while you're practicing, but throughout the rest of the day and coming weeks. Notice how your practice affects your emotions, moods, self-esteem, and relationships. Commit to the one or ones that make you come alive and bring you close to Spirit. Here are some I've tried:  writing, poetry, meditation, prayer, dreamwork, yoga, playing and listening to music, being with animals and nature, hiking, and reading. Of these, writing, dreamwork, and meditation have been the most helpful and enduring.
3. Persevere

. Some practices take a longer trial period than others before you get into the groove and begin to notice beneficial effects that motivate you to continue. For example, I've always loved to write — letters, poetry, diaries, journals, stories, plays, etc. — but when I began to write my dissertation at the age of 39, it was far more difficult than fun. Since it was my dissertation, I forced myself to persevere. Because I had a part-time job and two children, I wrote for a few hours every night after they went to bed. Of course, this meant I had to let other responsibilities slide and my husband had to help more with the kids and household duties. At first, these changes were hard for all of us. But day by day my resistance lowered, my writing brought more pleasure, and my family grew accustomed to our new routines. By the time I finished several months later, I realized that this had been the happiest time of my adult life! Hard as it was, the moment I sat down at my typewriter, time disappeared and all my concerns dissolved until I got up again. It was pure magic.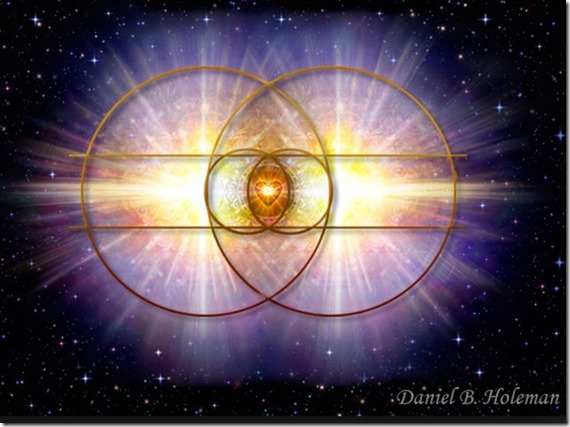 4. Practice regularly

. Daily is ideal. Set aside a time when you can be alone and concentrate for at least 20 or 30 minutes. But there's no need to beat yourself up if you miss a few of these appointments with your soul. For example, when I first committed myself to dreamwork, I recorded and worked on dreams most mornings and totaled over 300 every year. Last weekend I finished summarizing my dreams from 2019 and my total was 119. Weeks passed when I didn't remember and record a dream. But I've done this for so long that I know when I need to get serious about it again. And when I do, it always brings me back to peace and love.
What practices make your true Self come alive? If you haven't found your center yet, may 2020 be your year of returning to that umbilical spot of grace where you were touched by God.
Image credits:  Serpentine Fire, Google Free Images, unknown. Heart Mandala, Google Free Images, Daniel B. Holeman.
Jean Raffa's The Bridge to Wholeness and Dream Theatres of the Soul are at Amazon. E-book versions are also at Kobo, Barnes And Noble and Smashwords. Healing the Sacred Divide can be found at Amazon and Larson Publications, Inc. Watch for her new book, The Soul's Twins, which will be launched later this year.