After my last post, a reader asked me some questions about the Lover and Beloved archetypes.  Before I answer them I want to remind you that the whole concept of archetypes was only introduced to the West about 90 years ago and for everything we think we understand about them, there's much more we don't.  Here's what I think right now.
Q:  "What is the difference between the Beloved and the true self?  Is the Beloved the true self?"
A:   As I wrote in my new book, the term Beloved connotes many different things. In your physical life it can mean the person you love above all others and with whom you enjoy sexual intimacy. Psychologically the Beloved is the beautiful, soulful, feeling, emotional, magnetic feminine aspects of our true selves that attract and inspire our masculine ego/Lover to undertake the search for love, pleasure and union. In Christianity it often refers to Jesus, or the Church, the body of Christ which is God's beloved. Beloved can also be an encompassing term for the soul, or for all the feminine archetypes making up the feminine side of the Self, or it can mean the Self itself: our spiritual essence, the sacred Other with whom we wish to unite,  our true self, the Christ within, and so on.
Q:  "Is the Lover the one loving and the Beloved the one loved?"
A:  Essentially, yes. The Lover is the part of us that pursues love and pleasure,  (physical, and spiritual), and the Beloved is the part that receives, accepts and deserves love and pleasure.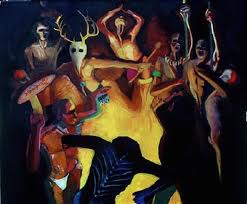 Q:  "If our Beloved is unawakened, or not loved by our Lover, is that why the Beloved carries around all the unacknowledged feelings?"
A:   Either or both can be unawakened, which means that we will have trouble feeling and/or accepting the positive emotions of love and pleasure and will tend to look for them in the wrong places.  Until our Lover is awakened—which usually occurs when we have traumatic conflicts or experiences that compel us to acknowledge and work with our honest feelings—he will not have the passion to search for love and awaken our Beloved's positive and tender feelings. Until he does, she will still be asleep, carrying all our unacknowledged feelings in our unconscious, and we will not have access to them.
Q:  "I thought the Shadow carried the unacknowledged feelings."
A:  Our Shadow does include the unacknowledged feelings of the Lover and Beloved,  but it also contains unacknowledged qualities other than emotions. Some are mental, like the dogmatic Scholar's calcified, childlike, one-sided ideas, opinions and attitudes and the immature Wisewoman's tendency to be too gullible, receptive and permissive;  others are a combination of social, mental and behavioral, like the shadow King's dominating, authoritarian manner.

Many who are fascinated with the psyche have tried to draw clear boundaries around the archetypes. I've worked for years to devise a framework that could help me understand myself, and I'm passing on what's been useful; however, nobody knows for sure how closely our descriptions fit reality. In truth, it's not possible to fully understand. Archetypes are unconscious patterns that we only become aware of when we project them onto Gods and Goddesses and portray in myths. The most fruitful thing we can do is observe how their energies move in us, then express them in imaginative ways. If naming them helps, good. But if writing, painting or dancing them helps more, even better! Theories can guide, but only personal experiences can heal.
Something to think about:  What does your Halloween costume this year say about your archetypal energy?  Happy Halloween!
You can purchase Healing the Sacred Divide at Amazon and www.larsonpublications.com.