"[W]e must also remember the Self, this living force with us, wants to help us face our wounds and darkest moments and then—through hurt, fear, sorrow, anger, and tears—emerge and become healed and whole.

"As we look further into how we can call on this part of ourselves for help, we will discover, as Jung did, that strong forces exist within us. Ultimately, the strongest one, the Self, is at the center of our soul. The seat of our inborn urge to heal and grow, the Self enables our personality, our life, and our story to become complete if we give our inner life, the attentive, loving, supportive environment that it needs." Massimilla Harris, Ph.D. and Bud Harris, Ph.D. Into the Heart of the Feminine: Facing the Death Mother Archetype to Reclaim Love, Strength, and Vitality, 2014, p. 31.
From my perspective, Jung's concept of the Self is possibly his single most valuable contribution. If enough of us were to experience the reality of it within ourselves, it would have the potential to change us, our civilization, and the world forever. Think of all the religious wars and hate crimes committed in the name of God, or Allah, or whatever name we use for the sacred that could have been prevented if we knew and trusted the Self.
I see the Self is a portal to the Sacred Other.  Here are some of Jung's quotes that have led me to that conclusion:
"The self is a fact of nature and always appears as such in immediate experiences, in dreams and visions, and so on;  it is the spirit in the stone the great secret which has to be worked out, to be extracted from nature, because it is buried in nature herself. It is also most dangerous, just as dangerous as archetypal invasions because it contains all the archetypes: one could say an archetypal experience was the experience of the self: It is like a personification of nature and of anything that can be experienced in nature, including what we call God." CG Jung. Nietzsche's Zarathustra: CG Jung, Note of the Seminar Given in 1934-1939, Vol.II (3) June 1936), p. 977.
When Jung spoke about archetypal experiences, he meant deeply meaningful spiritual,  awe-inspiring experiences that fill you with a sense of having been touched by something supernatural, something divine. Sometimes they manifest in synchronicities—meaningful coincidences—so compelling that they feel like guidance from beyond yourself. They often initiate major life changes you might never have made without a powerful nudge from within.
"[T]he symbol for the Self is an idea of a totality that is not identical with the ego. It is a consciousness which is not exactly our consciousness, a light which is not exactly our light."  CG Jung, Visions: Notes of the Seminar Given in 1930-1934, Vol.I (11 Nov. 1931), p. 445.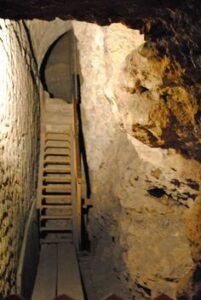 Your ego cannot manufacture an archetypal experience. But it can open up, accept, and follow the guidance it receives from nature through the portal of the Self.
"Through the self we are plunged into the torrent of cosmic events. Everything essential happens in the self and the ego functions as a receiver, spectator and transmitter." CG Jung , Letter to Aneila Jaffe, 22 Dec. 1942, Letters, Vol. 1, p. 326.
"[E]very light, every fire, comes to an end, and there would be utter darkness, but there is still left the light of the self, which is the supreme light." CG Jung, Nietzsche's Zarathustra:  Notes of the Seminar Given in 1934-1939, Vol. 11 (29 Jan. 1936) p. 792.
Note what Jung says about the difference between God and the Self: your God-image and portal to God:
"[T]he term self is often mixed up with the idea of God. I would not do that. I would say that the term self should be reserved for that sphere which is within the reach of human experience, and we should be very careful not to use the word God too often. As we use it, it borders on impertinence; it is unlawful to use such a concept too often. The experience of the self is so marvelous and so complete that one is of course tempted to use the conception of God to express it. I think it is better not to, because the self has the peculiar quality of being specific yet universal. It is a restricted universality or a universal restrictedness, a paradox; so it is a relatively universal being and therefore doesn't deserve to be called "God." You could think of it as an intermediary [a portal? my word], or a hierarchy of ever-widening-out figures of the self till one arrives at the conception of a deity. So we should reserve that term God for a remote deity that is supposed to be the absolute unity of all singularities. The self would be the "preceding stage" [quotes mine] a being that is more than man and that definitely manifests; that is the thinker of our thoughts, the doer of our deeds, maker of our lives, yet it is still within the reach of human experience." CG Jung, Nietzsche's Zarathustra: Note of the Seminar Given in 1924-1939, Vol. II (3 June 1936) par. 977-78.
Finally,
"There is no reason whatsoever why we should or should not call the beyond-self Christ or Buddha or Purusha or Tao or Khidr or Tifereth. All these terms are recognizable formulations of what I call the "self."  Jung and Religious Belief, 1958), CW 18, par. 1672.
Have you ever had an experience of the Self? How did it change your view of yourself and the way you see and live your life?
Image credits: Adobe, Pinterest
Jean Raffa's The Bridge to Wholeness and Dream Theatres of the Soul are at Amazon. Healing the Sacred Divide can be found at Amazon and Larson Publications, Inc. Jean's new Nautilus Award-winning The Soul's Twins, is at Amazon and Schiffer's Red Feather Mind, Body, Spirit. Subscribe to her newsletter at www.jeanbenedictraffa.com.