"Anything conscious can be corrected. But anything that slips away into the unconscious is beyond the reach of correction and, its rank growth undisturbed, is subject to increasing degeneration. Happily, nature sees to it that the unconscious contents will irrupt into consciousness sooner or later and create the necessary confusion." C.G. Jung, Mysterium Conjunctions, CW 14, par.672
Epoch III:  Integrated Consciousness
Epoch III is a realm of potentially limitless consciousness in which we no longer project our own ego-consciousness onto a God outside us, but open to all that God may be and develop an inner relationship with God. With earlier levels of self-awareness, we didn't ask for admittance, we just walked in. But Epoch III is the seeker's domain and despite the crises that invite us to explore it, it will not open to us unless we knock.
Descending into the unknown and honoring its truths is daunting. It can also be painful because the ego is suffering the trauma of dying to "the world's" opinions. Dr. Michael Washburn, author of Transpersonal Psychology in Psychoanalytic Perspective says that this psychological death is often accompanied by a lack of psychic energy, a sense of alienation from the world, unstable relationships, mood shifts, depression, extreme anxiety, impulsiveness, potentially self-damaging behaviors, intense and inappropriate anger, emptiness, boredom, identity disturbances and so on.
These common symptoms point to a purging and opening of the ego that must occur before new psycho-spiritual life can be born. This often starts with reassessing society's conventional moral and religious ideas, rejecting those which no longer serve our growth, and integrating new ones that do. Help can be found in various forms of mental training that explore the non-egoic realm. Some people use spiritual practices such as prayer, meditation, contemplation, and mindfulness to observe their thinking and come to terms with negative or compulsive thoughts and worries. Dreamwork, bodywork, psychotherapy, analysis, art, reading, journaling, study, and active imagination likewise help us retrieve repressed material and identify and control toxic mental events and emotions as they arise.
At a conscious level this work might be motivated purely by a desire to alleviate our discomfort; but as Carl Jung discovered through fearless and lengthy exploration of his unconscious self (a three-year journey recorded in his extraordinary The Red Book), it nevertheless has the consequence of activating the Self. As Washburn states, "In dying to the world, the ego also dies to the God-image it had projected upon the world" and a new and deeper faith is born. Opening to the reality of the indwelling Sacred ushers us into a fresh new realm suffused with sacred meaning. Entering this realm is not a function of any particular religion or set of beliefs, but a natural unfolding of the potential for growth in every soul.
In the Middle Ages many Jewish, Muslim, and Christian mystics experienced an Epoch III increase into the Divine Unity of God and used the art of alchemy to explore its deeper meaning. For them, transforming base metals into gold was a metaphor for perfecting the spirit by transforming fixed, solid aspects of the personality (so sure of their rightness that they are essentially dead), into a fresh, childlike openness.
Jung noted that in the ultimate phase of the work this leads
"to the union of opposites in the archetypal form of the hierosgamos or 'chemical wedding'.  Here the supreme opposites, male and female . . . are melted into a unity purified of all opposition and therefore incorruptible." C.G.Jung, "Introduction to the Religious and Psychological Problems of Alchemy," in Psychology and Alchemy, 2nd. ed, CW, 12, 37.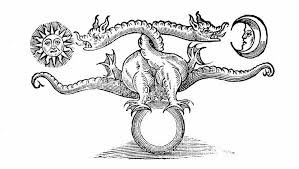 The alchemists called this the sacred marriage of the King and Queen, and saw it as the key to comprehending the Ancient Mysteries, the lost wisdom that brings Enlightenment.
Whereas Epoch I is about Mother and Epoch II about Father, Epoch III belongs to the Self, or Divine Couple. Their relationship develops within us as we consciously integrate opposites that were formerly separated. This is the growth into individuation and wholeness that is the goal of psychology, and the way of enlightenment of which spirit persons speak. It is our magnum opus, the most beautiful work of art a human can create and the fulfillment of our greatest potential: to become the unique, creative beings we really are. Completion of this work brings many benefits, including affirming self-knowledge, deeply satisfying personal meaning, freedom from the compulsion to please or impress, the joy of clearly seeing the underlying patterns of our lives from a cosmic perspective, a sense of connectedness to nature and all of life, and benevolent thoughts and actions guided by a conscious immersion in the Divine Unity.
Art Credit: The Sacred Marriage, Artist unknown. Union of Opposites: Artist unknown.
This material was taken from Healing the Sacred Divide.
Jean Raffa's The Bridge to Wholeness and Dream Theatres of the Soul are at Amazon. Healing the Sacred Divide can be found at Amazon and Larson Publications, Inc. Jean's new Nautilus Award-winning The Soul's Twins, is at Amazon and Schiffer's Red Feather Mind, Body, Spirit. Subscribe to her newsletter at www.jeanbenedictraffa.com.