I usually schedule a post to be published one minute after midnight every Tuesday morning. I've done that pretty consistently for thirteen years with the exception of a year or two when I was so busy with my third book that I posted every two weeks. For some reason, or probably many reasons, yesterday I didn't schedule anything for publication today.
Now I know why. When I awoke this morning I found that during the night I had received two early birthday gifts. My birthday isn't until April 23, but this was such an unusual, synchronistic occurrence that it seemed important to share them with you today, on April 11.
The first was from my father. Yesterday, April 10, was his birthday. He died 70 years ago and appeared to me in a dream last night.
Dream #5561: I'm watching videos of auditions of male singers for roles in an opera or musical play. Four men will each sing one of the songs from the production.  I see closeups of each of them on a screen as they sing. First comes a man with a lovely baritone voice, then an older man whose voice is a deep bass, then a third, maybe a tenor. The fourth is my father. I'm so excited and thrilled to be able to hear his beautiful voice again after all these years. He only sings a few lines, and I don't remember the words or the melody, but it's him and his baritone voice, and it's beautiful. I wish I could have heard more. I hope he gets the lead role.
That's Daddy in the picture above with his dummy, Johnny, McSafety.  He was a policeman, actor, singer, and ventriloquist. Those of you around my age may remember hearing Edgar Bergen and his dummy, Charlie McCarthy on the radio. He may have been on the Ed Sullivan show too. For a while my father had a local radio show with his dummy and a pianist who played music for him. I think the show was called The Singing Policeman. My father, Ernest Raymond Benedict, called himself Uncle Ray.  He and Johnny McSafety would go around to schools and sing and talk to children about traffic safety. Dreaming about him the night after his birthday was very special for me.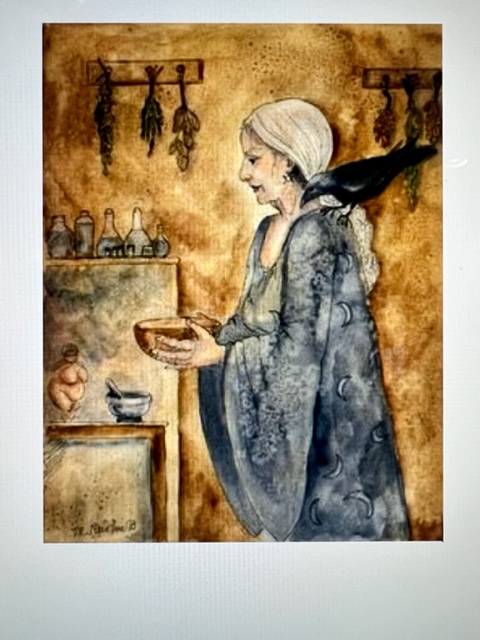 My second birthday gift arrived this morning via email. This one was from Deborah Gregory, a sister Jungian-oriented writer and gifted poet from England. She and I have commented on each others' blog posts for years.  Her blog is called A Liberated Sheep in a Post Shepherd World. You can read some of her exquisite poetry here. https://theliberatedsheep.com/
To my delight, she has written a birthday poem for me and illustrated it with this beautiful painting which she says reminds her of me. The poem consists of four haikus, one for each of my four Jungian-oriented books. The fact that Deborah created this especially for my birthday and that I received it on the same morning as the dream of my father blows me away. Synchronicities like this are messages from who or whatever is running this show called Life that we are seen, known, and loved by something vast and unknown beyond our conscious selves.
Eighty Years of Light
By Deborah Gregory
For Jean Raffa
A bridge to wholeness
Still helping others to heal
Deeply feminine
Sacred dream theatres
Made visible by her hand
Alchemist, four score
Soror mystica
Healing the sacred divide
With ancient wisdom
Balancing the twins
A whole shining soul singing
Eighty years of light
A heartfelt thank-you Deborah, for your generous, loving spirit, your creative work, and your friendship. You are an inspiration and a blessing to me.
Happy April to all. Happy spring. Happy life.
Have you ever experienced a synchronistic event related to your birthday?
Jean Raffa's The Bridge to Wholeness and Dream Theatres of the Soul are at Amazon. Healing the Sacred Divide can be found at Amazon and Larson Publications, Inc. Jean's new Nautilus Award-winning The Soul's Twins, is at Amazon and Schiffer's Red Feather Mind, Body, Spirit. Subscribe to her newsletter at www.jeanbenedictraffa.com.