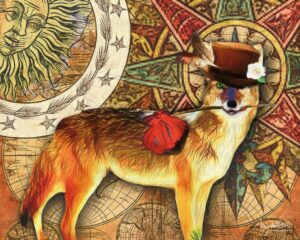 Like the Lone Ranger and Tonto who burst my bubble of security in an unforgettable dream at the age of ten, the Trickster archetype has shown up again. This time it has locked the door on your comments and shaken my trust in WordPress's ability to keep our lines of communication open. For the last three weeks your comments have not been published on my posts and are nowhere to be found.
I've missed you. We've been sharing thoughts and learning from each other here at Matrignosis for over 11 years. It feels like a cozy neighborhood cafe' where regulars drop by to have a cup of coffee or tea and a chat. Many of you have become treasured friends.
When my old nemesis, Self-Doubt, shows up, your comments have always shifted my psyche's balance scales back to a comfortable equilibrium. You've cheered for my successes, sympathized with my struggles, and provided insights about my dreams. And now, suddenly I can still post notices on the front door, but Trickster won't let you in.
After the first post I thought it was just a coincidence that I didn't hear from anyone. Or there was too much going on in your worlds to write. I hoped it was a simple glitch that WordPress would notice and fix if I just waited. By the second post I thought you must have lost interest in the menu. Maybe I was serving too many of the same tired dishes. Not enough variety. Too much salt, not enough pepper. Too much sour, not enough sweet.
So when three people reached out yesterday to express their concern about not being able to comment on the third post, it was a welcome relief and call to action. Thank you Aladin, Brian, and Stephen. I have hired some help to track down Trickster and find the key to the lockdown. We've ruled out a possible hacker and think it's a software glitch.
Synchronistically, the last time Trickster interfered with my internet communications was exactly a year ago yesterday, Nov. 17, 2020. That was the day of my Zoom launch of The Soul's Twins. A problem with the sound caused a thirty minute delay. Luckily, most of the attendees were still there when we opened the door to the waiting room.
What have I learned from Trickster's lesson this time around? That I am very fortunate in my friends but sometimes take them too much for granted. That I need you all far more than I realize. That my work is a magnificent gift for which I am profoundly grateful, but without relationships it's empty and meaningless.  That E.M. Forster's axiom, "Only connect," is deeply wise and essential for my soul's welfare. And that when it comes to my creative work, old Self-Doubt can just take a ride. And take Trickster with you!
So until this gets fixed you might want to save your comments in a separate file before you try to post them. That way, if the door's still locked, you can copy them into an email and send them to me at  jeanraffaauthor.com. Or you can message me on Facebook. Here's hoping we'll be together again soon.
Image credits:  Ghostwood Gallery. Artist Unknown. https://ghostwolf.gallery/product/the-trickster/
Paper and E-book versions of The Bridge to Wholeness and Dream Theatres of the Soul are at Amazon. The Wilbur Award-winning Healing the Sacred Divide can be found at Amazon and Larson Publications.com. Jean's new Nautilus Award-winning The Soul's Twins, is at Amazon and Schiffer's Red Feather Mind, Body, Spirit. Subscribe to her newsletter at www.jeanbenedictraffa.com.