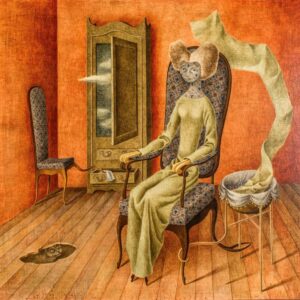 I'm going through an uncomfortable phase. I've had the same dream almost every night for three weeks. It has no images. Just thoughts and words: I'm writing a blog post about the Mediatrix archetype.
Although the words vary, the same three elements appear in every dream. First, I'm determined to understand and describe this archetype. Second, I'm organizing my thoughts into three main themes. Third, my thoughts must be true and original.
Dreamwork has made me acutely aware of my inner climate. I'm curious about this recurring dream because of waking mood changes over the last month. I've examined it closely and see three common elements.
First, I'm determined to understand this mysterious and compelling archetype better. My Mediatrix connects my conscious ego with unconscious developments. I want to know what's going on and guess I hope she can help.
The second common element is three-ness. Having the same dream — a dream about three-ness — three weeks in a row, means something. Three is the magic number of fairy tales: three princesses, three tasks, three wishes. Pythagoras believed it was the perfect number of harmony, wisdom, and understanding. It's the number of time — past, present future; the phases of life — birth, life, death; the sequence of story — beginning, middle, end; and the dynamics of problem-solving — thesis, antithesis, and resolution. Three is the number of the Divine, and the Mediatrix who connects us with the Divine.
The third element is originality. I'll be ever grateful to the philosophers, theologians, and psychologists I've studied. They've furnished the underlying frameworks of the universal wisdom shared by humanity. But within those frameworks, I want to know and be true to my soul, to manifest what is original in me.
Since my dreams are original and unique to me, I've revisited the remaining dreams from the same three weeks to see if they contain more clues. There are eight.
Dream #5378:  Sept. 18, two days before the last full moon of summer. The large head and thick neck of a huge, majestic horse arch over me protectively as I look down at my feet which are streaked with blood. An unknown woman behind me tells him to stop pushing into my space.
Dream #5379, Sept. 24, two days after the autumnal equinox. A pleasant young man has a delightful, innocent baby who's playing with a toy made from a stick, a round metal disc with a hole in the middle, and a leather thong.  The top of the baby's skull is missing, leaving the 7th, crown chakra, exposed, vulnerable.
Dream #5380, Oct. 3. My house is old, messy, rundown, and under repair. I want to refresh it: make it sturdy, clean, and beautiful.
Dream #5381, Oct. 4. I walk into a synagogue and find a seat. A woman pushing a baby stroller passes by. Another woman scolds me loudly, telling me to pay attention to the sweet little baby. 
Dream #5382, Oct. 4. I'm in the backyard of my childhood home. A Mexican boy rides a big brown horse at a full gallop toward me. He somersaults over the head of the horse and lands unharmed with his feet on the ground. The horse stops at once to keep from trampling him.
Dream #5383, Oct. 6: I'm wearing a brown dress and wearing a full, brownish pink rose over my heart to balance my animus. I imagine a large snake nearby wrapping itself around me.
Dream #5384, Oct. 8: I've cut my long, straight, gray hair to chin length. I look in a mirror and see that it's light brown with tight curls. I can live with it.
Dear #5385, Oct.  8:  I'm creating the design for a beautiful vase. I imagine the stems of three long, slender, metal leafs with tapered ends. They will join at the base to make a container for water, then flair out to support three long-stemmed flowers. The director of a play interrupts me. He wants me to make a black and white chequered jacket with a hot pink lining for one of the actors. I don't want to copy someone else's clothing design. I want to create an original container for flowers.
Some associations:
Babies: New birth, innocence, youth, hopeful new life.
Horses: Jung said that horse always symbolizes a woman's animus, but as a beast of burden it is also related to the Mother archetype. The horse animus in Dream #5378 is protective like a mother, but it also has a very big head! This suggests ego inflation, which makes sense in context. That dream arrived on the morning of my last Zoom presentation of the summer about The Soul's Twins. I think the horse is my writer animus. Feeling a bit important and full of himself, he wants to share "his" book and protect my ego from potential criticism! The horse in Dream #5382 carries the young show-off animus and protects him from being trampled when he somersaults off.
My house:  Me. My psyche.
Synagogue: A holy place of worship. To pay attention to a sweet baby is a sacred calling.
To cut my hair: To manage my thoughts. From straight to curly suggests less linear thinking and more circuitous organic thinking and imagining.
Any thoughts about the pink rose and snake?
Thank you for bearing with this exercise in inner work. I hope you've found it interesting and maybe helpful in your search for self-knowledge.
What have I learned today? Well, I feel better than I did this morning. More hopeful. I see positive signs of new life, and movement toward more self-awareness and authenticity. Reward enough for one day.
What do your dreams say about this phase of your life?
Image credits:  Mimesis, by Remedios Varo.
Paper and E-book versions of The Bridge to Wholeness and Dream Theatres of the Soul are at Amazon. The Wilbur Award-winning Healing the Sacred Divide can be found at Amazon and Larson Publications.com. Jean's new Nautilus Award-winning The Soul's Twins, is at Amazon and Schiffer's Red Feather Mind, Body, Spirit. Subscribe to her newsletter at www.jeanbenedictraffa.com.