The Space Between is a 2021 American coming-of-age comedy film from Rachel Winter in her directorial debut. The film stars Kelsey Grammer, Jackson White, and Paris Jackson, and follows a musician named Micky Adams (Grammer) who becomes friends with Charlie Porter (White), a man sent to remove Adams from a record label contract in Los Angeles. Paramount Pictures theatrically released the film in the United States on April 23, 2021, with a digital release set for June 15.

Set in the 90s Los Angeles, Micky Adams, an eccentric has-been rock musician, loses his grip on reality all while his record label is looking to drop him and his newly created "unique" albums. In hopes of breaking out of the record-label mailroom, a young Charlie Porter is tasked with traveling to the musician's bizarre home and forcing Micky out of his contract. Micky realizes Charlie could be the key to an artistic breakthrough, and the pair's unlikely friendship grows. Wikipedia.
There's a lot to like about this movie. Rachel Winter directs the plot and characters with a lighthearted touch. Yet beneath the deceptive quirkiness lies a wealth of unexpressed messages that are artfully woven through the story with images of the ocean. This particular ocean off the shore of Malibu is more than a beautiful place to admire and swim in. Psychologically, the ocean is a metaphor for the unconscious sides of each of the main characters: all the painful memories and disowned suffering they're trying their best to deny and forget. And that llama? Maybe it's a reminder of the magical, mysterious instinctual life with which we've lost touch.
Charlie Porter (Jackson White) oozes youthful eagerness and ambition. But behind his over-the-top confidence lurks a suffering, self-doubting child with a father wound. The eccentric behavior of former rock star Mickey Adams (Kelsey Grammer) shields a deep depression whose cause is not immediately apparent. But whatever it is, it has cost him his fame and creative inspiration. The persona of his daughter, Julia, (Julia Goldani Telles), is a mix of anger and toughness that hides a winsome vulnerability.
Then there is Cory (Paris Jackson), a beautiful, semi-talented young singer who, for unknown reasons, has sold her soul for fame, and freely gives her body to anyone who offers her a chance at it. A Hollywood cliche' to be sure, but one that reveals the materialistic, soulless, shadow side of the drive for power and success that permeates contemporary Western societies. Another casualty of the same drive is the bizarre Donny Rumson (played masterfully by the veteran actor William Fichtner), who delights in rudely dismissing anyone who doesn't immediately fulfill his every command.
On the surface of this enjoyable and satisfying film, the theme appears to be the aforementioned obsession for power and success and the consequences of achieving or losing it. But beneath that, other archetypal themes run through like deep ocean currents from beginning to end. The primal need for healthy parental nurturance. The universal search for love and pleasure. Finding the freedom to be authentic that comes when we face our demons and are released from our ego's delusions. Deepest of all is the struggle to maintain a lasting connection to our creative Source that enables us to find our soul's calling and answer it with a meaning-filled life.
All humanity is furnished with a deep hunger to fulfill the same archetypal goals.  But too often, we are unaware of the subtle messages from the unconscious ocean beneath our ordinary lives that would help us attain them. They come to us every day in the form of meaningful memories, symbols, emotions, intuitions, problematic experiences, conflicts in our work and relationships, synchronicities, and dreams. If we choose to stay aware of them and take them seriously, we can develop an ongoing connection between our ego and our creative Source.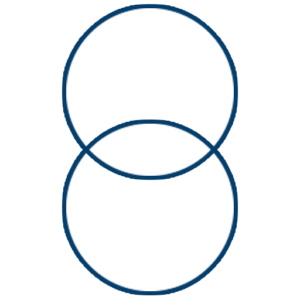 My favorite symbol for this inner dialogue is the mandorla, the almond-shaped space created by two overlapping circles. Each circle on its own represents two separate entities, like two people who are not engaged in an honest and intimate dialogue, or two conflicting parts of yourself that both want to be seen and expressed, like a conflict you're having about your religious beliefs, or two political parties. But when you allow the circles to meet and merge in that overlapping space where you can carry on a dialogue between both sides, freedom, creativity, inspiration, love, and inner union are born.
Watch the opening of The Space Between carefully.  See if you can see the mandorla, the space between the two characters who are swimming out into the ocean. This is a foreshadowing of the last scene which comes about because these characters listened to the messages coming from their souls and began to care for and communicate honestly with each other. As I see it, the question this film poses to viewers is: Are you listening to the messages your soul is sending?
Reminder: This Saturday, June 19, I'll present a two-hour Zoom workshop called The Partnership Profile: A Self-Assessment of Your Feminine and Masculine Archetypes, for the Jung Center of Houston. I hope to see you on Zoom. 2:00 – 4:00 CDT. 3:00 – 5:00 EDT. (Please note the correct time for your time zone.) Register here.
After I wrote and scheduled this for publication tomorrow, I read the following email from the director of the Jung Association of Central Ohio — the organization that sponsored my first public presentation of this program last Saturday.  I hope you don't mind a little shameless self-promotion, but it made me so happy I wanted to share it with someone.
Your program was stellar, Jean. So well-integrated and flowing with such reason and spirit. Your Lone Ranger dream was incredible. I was spellbound. How you used it to begin and end was brilliant. Sending you many blessings.
Thank you. 🙂
Jean Raffa's The Bridge to Wholeness and Dream Theatres of the Soul are at Amazon. E-book versions are also at Kobo, Barnes And Noble and Smashwords. Her Wilbur Award-winning book, Healing the Sacred Divide can be found at Amazon and Larson Publications.com. Her new Nautilus Award-winning book, The Soul's Twins, is available at Schiffer, Red Feather Mind, Body, Spirit and wherever books are sold. Subscribe to her newsletter at www.jeanbenedictraffa.com.