"The story matrix is all energy & music. There is a luminosity that connects all of us – everything. Even the worst of us are luminous beings. We are all stories. No such thing as time. We are each other's stories." ~Joy Harjo

"Harjo is a magician and a master of the English language." ~Jonah Raskin, San Francisco Chronicle 
If you've been following Matrignosis you know that at the age of ten I had a Big dream about the Lone Ranger, Tonto, and Silver. Years later when I discovered Jungian psychology, I began to understand Tonto's role in that dream. Now I believe he symbolized my inner shaman, my  instinctual native intelligence that eventually led me to my passions for writing and dreamwork.
Had I not taken that dream and the intense feelings it aroused in me seriously; had I not respected my inner realities and conducted years of inner work to understand them; had I not eventually overcome my fear of putting myself out there in my writing, I would never have tapped into my creative potential, never made the contribution that only I could make.
Every psyche contains a deep well of native intelligence and creative power. We all contain an archetypal guide — Carl Jung called it the Hierophant — who can lead us there. Hierophant is a Greek word for a wise person who brings people into the presence of wholeness and holiness by interpreting universal principles and sacred mysteries. In your psyche your Hierophant equates to a form of metacognition that taps into the specialties of both hemispheres of your brain — logos and mythos — and weaves them together into a bigger, more complete perspective on life than either side alone can imagine.
To awaken your Hierophant and the destiny to which it can lead you, you have to overcome all manner of enemies and obstacles. Some — like fear, lethargy, self-criticism, self-doubt, ignorance, and pride lie within you. Others — poverty, racism, family dysfunction, social pressure to conform, lack of education, and abuse — are forced on you from without. The way to find the whole and holy place within you that is guarded by your dragons is to acquire the courage to face them all full on. You have to be brave. Crazy Brave.
Joy Harjo is a Crazy Brave Hierophant. On June 19, 2019, this internationally known award-winning poet, storyteller, activist, saxophone player, performer, author, and playwright was appointed the 23rd United States Poet Laureate. She is the first Native American to hold this position. Born into the Mvskoke/Creek Nation in Tulsa, Oklahoma, the final destination of the Trail of Tears, she has captured America's imagination and respect by following her inner shaman past her personal dragons to her creative well.
"…when you go into the place of poetry, as a writer or a reader of poetry, you go into that place beyond time, you go into that place beyond words…and you find things there, you find yourself, you can find ancestors, you find out that those stones out there can speak, and the trees have their own language. Now the scientists are coming out with all kinds of books about this, but this is part of our old knowledge."
Shaman knowledge. Hierophant knowledge.
Harjo's genius lies in her ability to weave both sides of her whole and holy Self — her soul's twins — into one creative tapestry that contains the world without and the world within, past and present, soul and spirit, logos and mythos, literal fact and gut instinct, masculine and feminine, bright side and dark shadow.
As the Judges Citation of the 2019 Jackson Prize from the Poetry Society of America declares,
"Harjo's work speaks not only to the world we live in, but to the unseen world that moves through us, the thread that has connected us all from the start…. Harjo's poems embody a rich physicality and movement; they begin in the ear and the eye, they go on to live and hum inside the body…. Throughout her luminous and substantial body of work, there is a sense of timelessness, of ongoingness, of history repeating; these are poems that hold us up to the truth and insist we pay attention."
This crazy brave woman's ability to hold both worlds together and manifest them in her work has resulted in nine books of poetry, a memoir, five CD's of music and poetry, a one-woman show, and several plays and children's books. You can read about her many honors and awards at the links below.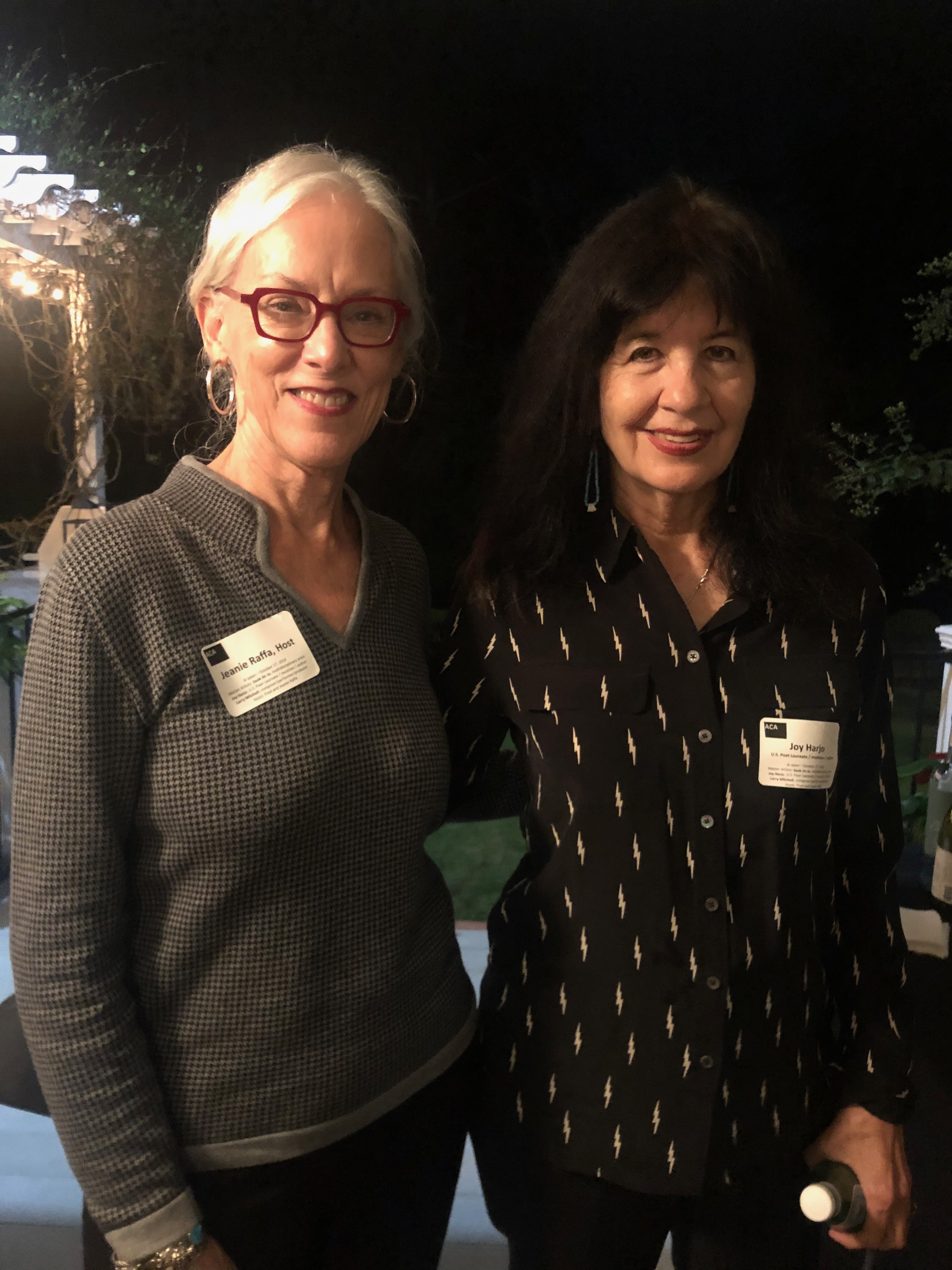 I met Joy Harjo last Thursday night when she and two other artists — multidisciplinary artist, Sook Jin Jo, and composer/performer/producer, Larry Mitchell (who also plays guitar with Joy's band) — were introduced to local members of the Atlantic Center for the Arts, where they are currently master artists in residency.
My first experience of my Hierophant appeared in the dream of a ten year-old girl who idolized a Hollywood characterization of a fictional Native American tracker named Tonto. But now that I've experienced Joy Harjo's mystical, hauntingly courageous style, in my imaginarium I see her and Tonto, two bold and proud warriors — Mvskoke/Creek and Mohawk — standing together. My personal image of my soul's twins feels complete.
Enjoy this blessing that opens her book, Conflict Resolution for Holy Beings. I dedicate it to the memory of Cicero Greathouse, my dear crazy brave artist friend who will be deeply missed by all who knew and loved him.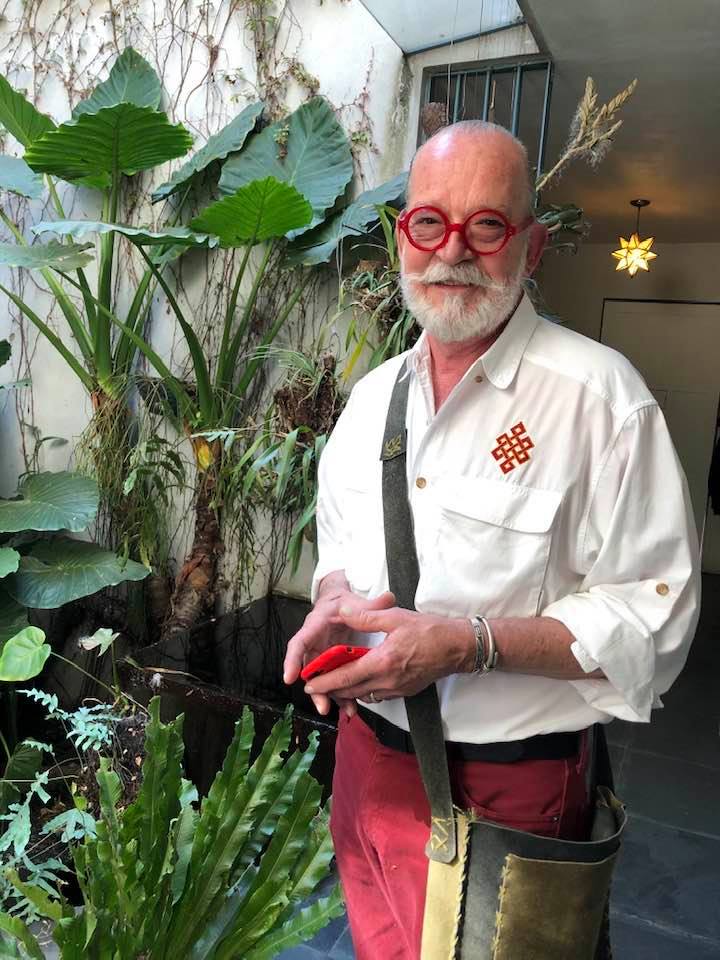 Bless the poets, the workers for justice,

the dancers of ceremony, the singers of heartache

the visionaries, all makers and carriers of fresh

meaning — We will all make it through,

despite politics and wars, despite failures

and misunderstandings. There is only love.

Joy Harjo's website
Joy Harjo named first Native American poet laureate
Joy Harjo Becomes The 1st Native American U.S. Poet Laureate
Joy Harjo Becomes First Native American Writer to Be Named U.S. Poet Laureate 
Jean Raffa's The Bridge to Wholeness and Dream Theatres of the Soul are at Amazon. E-book versions are also at Kobo, Barnes And Noble and Smashwords. Healing the Sacred Divide can be found at Amazon and Larson Publications, Inc. Her new book, The Soul's Twins, will be launched next year.