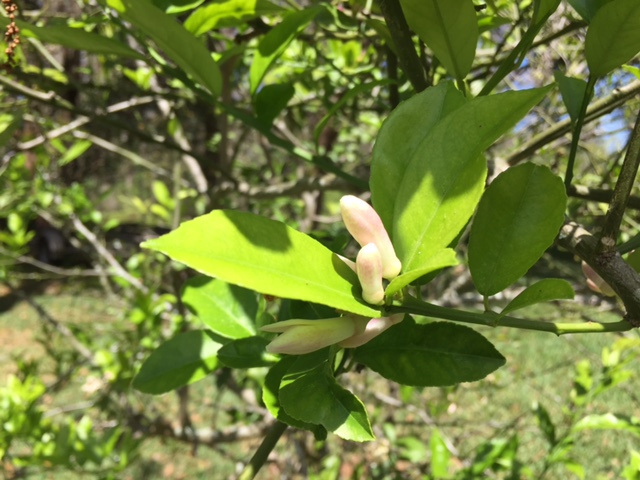 "Everything you can imagine is real." ~Pablo Picasso
Here in the Northern Hemisphere, Mother Nature is in labor once again. All winter long she's been hibernating, gestating powerful new forms in her underground womb. Atoms and molecules have been moving around in the dark, separating and connecting, ebbing and flowing, and now she's giving us front row seats, as she does each spring, from which to view Act IV of her Birth/Growth/Death/Rebirth passion play.
Signs of her new life are sprouting everywhere, even here in Central Florida where most of our vegetation stays green throughout winter.  On this morning's walk I photographed tightly folded buds that will be transformed into lemons this summer, brilliant red bottlebrush blossoms still laden with unopened buds, and fresh unfurling leaves of crape myrtle trees that spent the winter naked as skeletons.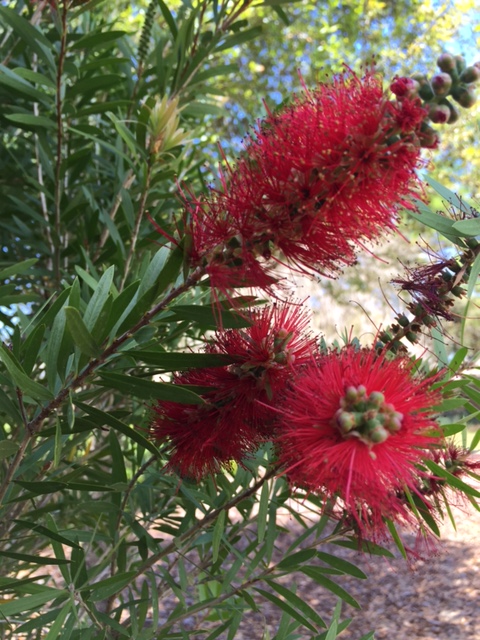 Where does all this new life come from?  Well, that's the Big Question isn't it?  The Mystery that's always confounded us, that we have yet to solve. Humanity has always reflected on it. When our ancestors sank deep into reverie, opening their minds and suspending their judgment, images entered their awareness as they observed the creations and forces of nature. Some images were borrowed from nature;  others came from depths we still cannot fathom. Hungry for understanding, our forebears interacted imaginatively with their images, examined them from all angles, anthropomorphised them, embellished their attributes, furnished them with motives, and imagined nefarious plots until they'd created stories that satisfied their spirits and souls.
They told their stories, each culture in its own way, to the people around them, with images and themes that would captivate and instruct.  Like the 5,000 year-old story of Sumeria's Inanna, Queen of Heaven and Earth, who descends to the Great Below to visit her sister, Ereshkigal, Queen of the Underworld. Inanna…who is hung on a meat hook to rot while Ereshkigal suffers birth pangs. Inanna…who, with the help of loyal friends instructed to wait for her, is resurrected with the water of life three days later and returns to the Great Above.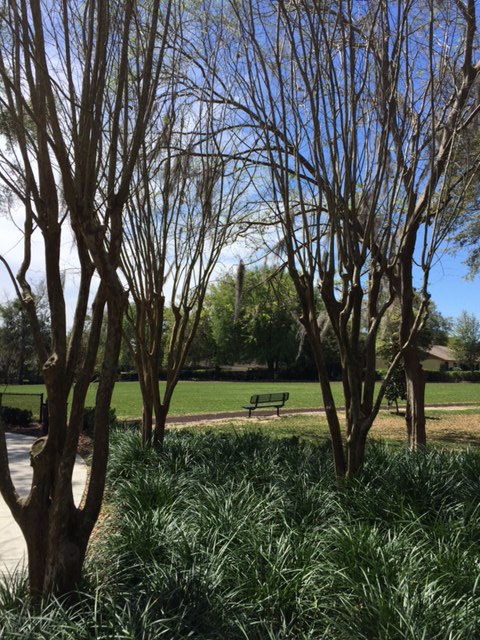 Or the story of Egypt's king Osiris, first told around 4,400 years ago. Osiris…who is murdered by his brother and becomes God of the Underworld, the dead, and the afterlife. Osiris…whose wife, Queen Isis, restores his body and conceives a son from it. Osiris…who in dying and being symbolically "reborn" in his son Horus, is worshiped as God of transition, resurrection, and regeneration. Osiris…a merciful judge of the dead in the afterlife and the granter of all new life, including sprouting vegetation and the fertile flooding of the Nile.  Osiris, the "Lord of love" with whom the kings of Egypt were associated at death; then, "as Osiris rose from the dead they would, in union with him, inherit eternal life through a process of imitative magic." (Wikipedia)
Or Greece's Persephone who, according to the 3,500 year-old story, is kidnapped and raped by Hades, God-King of the Underworld. Persephone…beautiful daughter of Demeter, Goddess of Fertility who, in her mourning, allows vegetation to die and people to starve until Zeus allows Persephone to return. Persephone…who, according to the Eleusynian Mysteries, brings the green new shoots of vegetation with her so the cycle of life can begin anew.
And Israel's Jesus, son of a virgin who is married to a carpenter. Jesus…whose story from about 2,000 years ago tells us that he grows up to challenge the prevailing religious authorities with his gospel of love and social justice.  Jesus…who heals the sick, raises the dead, makes disciples of women and fishermen and forgives prostitutes their sins.  Jesus…who is killed by the Roman authorities who have invaded and conquered his land. Jesus…who is hung on a cross, buried in a cave, and reborn after three days.
"My whole endeavor has been to show that myth is something very real because it connects us with the instinctive bases of our existence."  Carl Jung, Letters, Vol. 11, Page 468.
The universal story about the sacred Mystery of Life is told in myths. Each of us participates in this story, physically and mentally. Like Mother Nature, we too go through cycles. Like her we go into labor during winters when our souls have grown weary and cold. But beneath the surface, in the underground womb of our unconscious, our life energy continues to ebb and flow, separate and reconnect in new images of insights, possibilities and potential. And if, when they emerge in dreams and fantasies, we will see our images and use them imaginatively, our story can rebirth us into a new spring of hope, meaning, and resurrection.
"You are the Hero of your own Story."  ~ Joseph Campbell
What new part of your story wants to be born this spring?
Photo Credits:   Mandala.  Google Images.
Healing the Sacred Divide can be found at Amazon and Larson Publications, Inc. Ebook versions of The Bridge to Wholeness and Dream Theatres of the Soul are at Kobo, Barnes And Noble, and Smashwords.