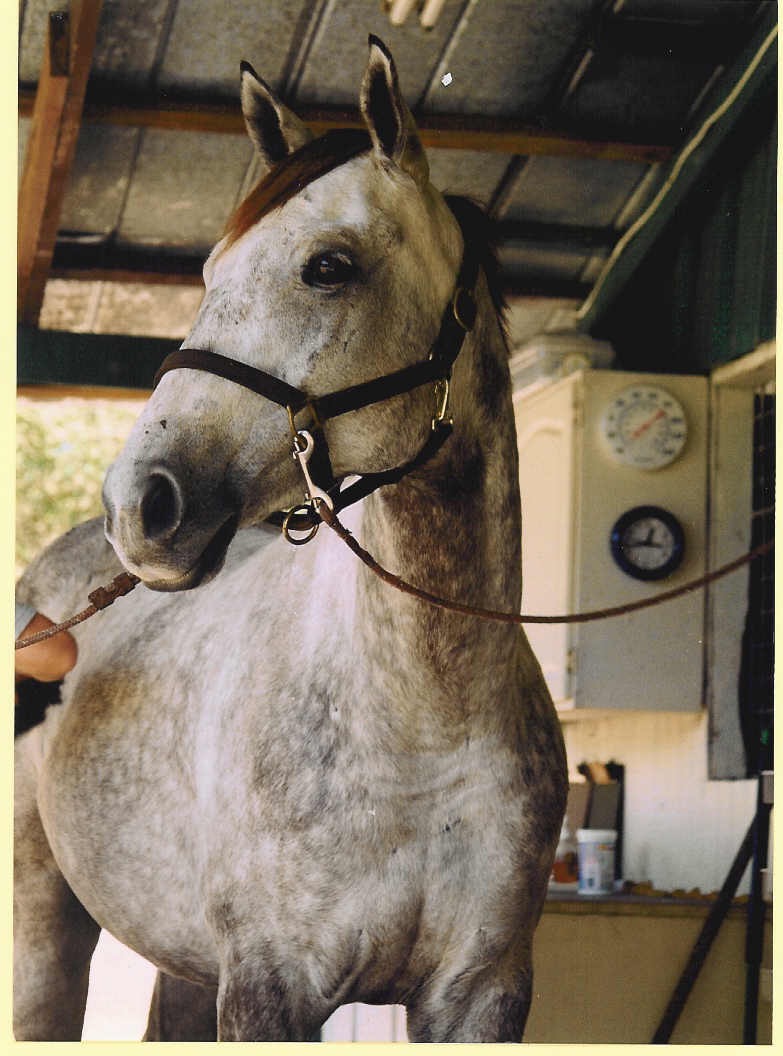 I'm in the kitchen with a woman who personifies motherhood to me.  We're standing before a low, double-doored freezer in the middle of the room.  As we open and close the doors, getting things out for a dinner party, my friend accidentally bumps the head of a dark-haired boy between ten and twelve standing between us.  He starts to cry.  I think she should kiss his head where she bumped him. But I realize she knows how to handle this, so I say to the boy, "She has children of her own."  He looks up and stares deeply into my eyes and says, "Yes, but does she have a stallion?"
Like the woman in my dream, I grew up believing relationships with my husband and children would fulfill me.  So I gave up my passion for horses. Perhaps my friend's passion for her family was enough.  Maybe she never heard the compelling call of the Self.  But the little boy whose eyes pierced my soul is my own inner boy and he knew that once I was horse crazy.  That I was the kind of woman who needed more than relationships:  I needed my stallion, too.
One might assume that because passion is such a powerful emotion it must be associated with the active masculine principle.  But this is not so. The word passion comes from the Latin passio, which means suffering, or being acted upon.  Thus it is associated with the passive feminine principle. (I'm not talking about men and women, but the feminine principle in all of us.) When one has a passion, one is acted upon—e.g. the passion of Jesus Christ—by a calling from or to some unknown power that cannot be ignored without endangering one's very soul. Moreover, passion is an emotion, and emotion is associated with the dark, feminine, dangerous animal side of our natures, as distinguished from reason and light, which are associated with the masculine.
"I say, follow your bliss and don't be afraid…If you follow your bliss, doors will open for you that wouldn't have opened for anyone else."― Joseph Campbell
I knew what bliss was.  I felt it every time I was around horses. Obviously I had a passion for them.  What I didn't know was that a spiritual passion was also stirring. When I heard the call of the Self at a Billy Graham crusade at 17, I tasted a new kind of bliss, and I believed it could best be served by sacrificing myself in service to others. So from then on I used religious beliefs and ideals to fortify the wall I'd been building to separate me from my shadow side.
By 37 my wall was developing cracks. Despite my stoic self-discipline I could no longer ignore the dangerous new feelings and uncomfortable questions stirring behind it. Something was wrong. One night, torn by an agonizing inner conflict, I prayed the most authentic, heartfelt prayer I had ever prayed: Help me. Please, please teach me to love.
Thus began a 'Dark Night of the Soul' spiritual crisis. For the next nine years I consciously and painfully tolerated the tension between the life I had chosen and the life of joy I hoped was waiting for me. All that while I managed to 'hold my horses,' i.e. avoid rash actions that might betray my soul or hurt someone else.  Was this love?  I didn't know.
This vigilant waiting, this alchemical tending of the fire, of keeping the passions in the crucible of my soul at a simmer…this was magical. Despite my mental suffering, I knew it even then. What I was doing felt important, right somehow. Sure enough. Beneath my conscious awareness, powerful transformations were occurring. Old dysfunctional attitudes and habits were dissolving. Tenuous new insights and connections were coalescing.  My wall was crumbling to ash.
"Find a place inside where there's joy, and the joy will burn out the pain."― Joseph Campbell
With the joyful discovery of Jungian psychology at 47, a door in my mind opened. My suffering exited as my latent passions for self-discovery, dreamwork, and writing strode in. Since then doors have continued to open. The Bridge to Wholeness was published. Invitations to speak and teach about what I loved arrived. Dream Theatres of the Soul was published. Healing the Sacred Divide won the 2013 Wilbur Award.
At 57 I fulfilled my childhood passion and bought a horse to train. Honey's Shadow Dancer was neither black nor white like the horses I loved in my youth, but gray, the color that results from blending these opposites.  Shadow symbolized my choice to stop living in an either/or way and start embracing and living my truths. At 2 and 1/2 years old, he was ripe for training.  So was I. It was time to get out of my head and into my body and the physical world, and I knew he'd teach me how to do that.
I had learned I didn't have to choose between Heaven and Earth, Spirit and Soul, others and self, head and heart, mind and body, safety and passion, meaning and duty, or masculine and feminine. I could find a middle way that integrated all the opposites: with consciousness.
And what about my prayer for love?  Did that work?  I'll tell you next time.
Image credits:  Mandorla, Cicero Greathouse
Jean Raffa's "The Bridge to Wholeness" and "Dream Theatres of the Soul" are at Amazon. E-book versions are also at Kobo, Barnes And Noble and Smashwords. "Healing the Sacred Divide" can be found at Amazon and Larson Publications, Inc.