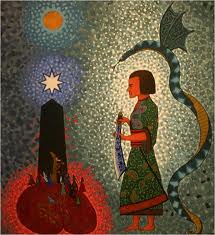 During this post-election time in America it is fitting that we honor the King and Queen archetypes, rulers of the social domain. I dedicate the next several posts to them.
Our ultimate goal in society is to nurture the flourishing of all by creating lawful order and moral virtue.  Whether we interact with two people or two million people, everything we say and do has something to do with our basic need to nurture or be nurtured.  Because others are always involved when our instinct for nurturance is engaged, our nurturing behavior has ethical import.
The commonly agreed upon standards and values that are passed on from generation to generation within a group represent the morality or ethos of that group.  Moral codes vary from group to group, region to region, and age to age.  The more isolated the group and the more closely its members identify with its rules, the more everyone in that group tends to believe that their particular moral code is sacred, universal, and inviolable.
The two poles of the social continuum represent opposite but equally valid dimensions of nurturing moral behavior. Our inner King represents the masculine logos approach in group relationships, our Queen represents the feminine Eros (or mythos) approach.  Each has different priorities and a preferred style that determines the way he or she governs and nurtures. Both styles are appropriate for some groups and settings and inappropriate for others.  The trick is to use both in balanced ways that do not overdo or neglect either one.
The word "morality" has taken on a negative connotation in recent years because of self-righteous individuals who have slipped into a masculine moral extreme in which they unconsciously equate morality with their personal religious beliefs. The reason this extreme is associated with masculinity is because it is based on abstract, perfectionist ideals like justice morality and not on compassion or a felt sense of relatedness to others.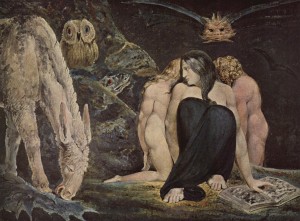 These extremists unconsciously project their own fears and obsessions onto a similarly uptight, self-righteous masculine deity of strict rules and uncompromising sternness.  What they fail to see is that a God who lacks mercy is not an authentic, moral God;  it is simply a flawed God-image arising from a fearful, self-important ego.  A religion that lacks compassion is not an authentic, moral religion;  it is simply a collection of stern man-made doctrines.  Likewise, a person who cannot accept her or his own flaws or forgive the flaws of others is not an authentically moral person, but simply a stiff and fearful puppet.  Authentic morality is not exclusive, restrictive, inhibiting, or judgmental.  Authentic morality, like authentic religion, is always freeing, accepting, merciful, and compassionate.
The King's regard for hierarchical legal systems that enforce justice and the Queen's understanding, caring and mercy are all traditional values, but when either archetype is over-valued and obsessive, unethical behavior results. Failing to constellate the King and Queen is equally irresponsible. This extreme is seen in parents who neglect their children, narcissistic, self-serving couples who have no time for nurturing anyone or anything else but themselves, or apathetic citizens who sponge off society without making any positive contributions of their own.  By developing respect for both the King and the Queen, we bring balance to our personalities, behave responsibly, and respect the authority and individual rights of all with whom we come in contact.
Healthy partnership between the Kings and Queens who govern nations depends on the integration of our inner Kings and Queens: on our ability to be just and caring, to respect the need for both hierarchical and shared authority, and to be flexible, creative, and forgiving in the ways we nurture others.  When we succeed in creating lawful order and moral virtue within ourselves we will have a real chance of making a positive difference in the world.
You can purchase Healing the Sacred Divide at this Amazon link or www.Larsonpublications.com.