My dreams are my personal treasure trove. They have known me better and guided me more surely toward my true gifts than any human seer or counselor could possibly do. They have been wiser than any teacher, more valuable than material possessions, more constant than any friend, more affirming of what's true and important to me than any compliment, mirrored reflection, or admiring glance I've ever received.
Do you ever ask yourself, "Is this all there is?"  Have you played by the rules and done your best, yet wonder why you're not as happy and fulfilled as you expected to be?  If so, How To Survive Your Childhood Now That You're an Adult: A Path to Authenticity and Awakening is a book you'll want to read.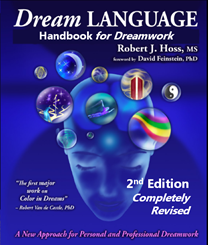 Have you ever had a dream in which a color stood out so strongly that it somehow felt important?  Robert J. Hoss, author and host of a great newly designed website called DreamScience, says that's because it is. A former scientist and applied researcher, Bob  retired early to devote his science and management skills to dream studies.